Tribute to Alistair Hulett

3-6pm, Sunday 14th Feb 2010
By Andy Carr
Posted Tuesday, January 5, 2010
Alistair Hulett – singer, songwriter, international socialist, revolutionary, ecologist and community activist died on Thursday evening, January 28 2010 at 6:30pm at the Southern General Hospital in Glasgow.
An event is being held in Sydney on Sunday 14th February to pay tribute to him:
The Sydney Gaelic Club
64 Devonshire St (near Central Station)
Surry Hills
There will be guest speakers including Tim Anderson (yes, the Tim Anderson of 'Tim Anderson was framed!' fame) and there will be an open mike for anyone who wishes to share their memories of Alistair.
And if all goes well, there will be some music as well!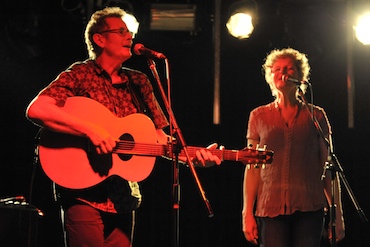 Alistair Hulett performing with Wheelers and Dealers at his last Australian gig in December 2009.
Below is an excerpt from the tribute by Alistair's partner Fatima on his web site:
Alistair became ill very suddenly on New Year's Day and was hospitalised on January 5 with suspected food poisoning. Liver failure was later diagnosed and it was hoped that he could receive a liver transplant, but further investigation revealed a very aggressive form of cancer which had already spread from his liver to his lungs and stomach. Alistair died peacefully only days after the cancer was first detected.
I would like to thank, with all my heart, the hundreds of people who wrote letters, sent emails, cards and left telephone messages of support during his short illness. They were a huge comfort to myself and his family.
A memorial will also be held in Sydney organised by his family and friends in the next couple of months.
Alistair was a kind, gentle man who was committed to fighting for a better world – a world based on the principles of justice, equality, love and respect for all of humanity. The world was a better place for knowing him and is a sadder place for his loss. He leaves a great legacy in his music that will continue to bring inspiration to many who, like him, believed a better world was possible.