Good Tunes Session

6-9pm, Friday 9th August 2013
By Dave De Santi
Posted Thursday, May 2, 2013
Burdekin Hotel
2-4 Oxford Street
Darlinghurst (Directions)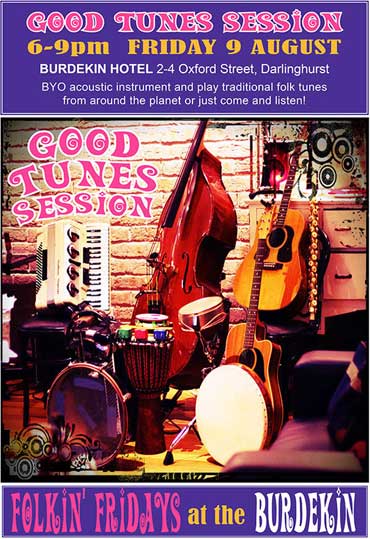 David De Santi, Artistic Director of the Illawarra Folk Festival and accordionista, has been hosting Good Tunes Sessions for a number of years in the Illawarra and at folk festivals around the country. Here's a chance for Sydneysiders to play and enjoy a good folk tune!
The plan is to have a casual evening of traditional folk music played with acoustic instruments. These sort of gatherings are called a 'Session'. Sessions are a traditional form of socialising with the joy of music. Playing music in a social convivial and relaxed acoustic atmosphere is very soothing for the musical soul.

You'll hear tunes from Ireland, Scotland, Italy, USA, France, French Canada, Sweden, Spain, Australia and beyond! Dancing is optional.
Acoustic musicians are welcome to join in with sheet music provided. The session is hosted by David De Santi, accordionista from the Wongawilli Bush Band, The Con Artists and I Viaggiatori.
Bring: Music stand, Good Tunes Session Book (if you have one, copies will be available), instrument.
Further enquiries about the session with David.
More information about sessions in the Illawarra and links to tunebooks.
Burdekin Hotel

An elegant multi-level and incredibly versatile venue, the iconic Burdekin Hotel stands proudly at the gateway of Sydney's diverse Darlinghurst/Surry Hills entertainment and late night district. A public bar featuring original ornate ceilings, art deco basement lounge and three self-contained function/event rooms, making it the perfect destination for all-occasions.