Fogs is the problem!

1pm & 7pm, Sat 12th March 2005
Posted Thursday, March 3, 2005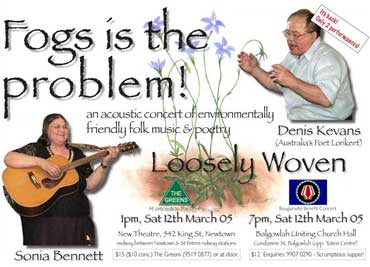 Two chances to see the revival of a concert performed by Australia's Poet Lorikeet Denis Kevans and singer/songwriter Sonia Bennett together with Loosely Woven (a group of 20 instrumentalists and singers).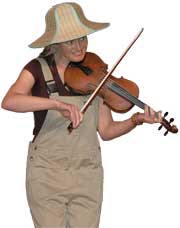 1pm, New Theatre
542 King St, Newtown
Halfway between Newtown & St Peters stations.
Bus 422 from Railway Square
Bus 370 from Coogee or Leichhardt
All proceeds to The Greens
Tickets: $15 ($10 conc.) The Greens (9519 0877) during office hours or at the door.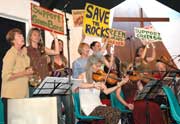 7pm, Balgowlah Uniting Church Hall
Condamine Street, Balgowlah (opp. Totem Shopping Centre)
Tickets: $12 (Enquiries: 9907 0290) (Scrumptious supper provided!)
The concert features the poetry and songs of Denis and Sonia and reflects the passionate concern that both feel for the environment - especially that of the Blue Mountains where Denis lives.
For more information ring Wayne Richmond on 9913 7788.