Martin Pearson @ The Loaded Dog

8PM, doors open 7.40pm, Saturday 24th October, 2015, Annandale Neighbourhood Centre, 79 Johnston St, Annandale
By Sandra Nixon
Posted Friday, July 10, 2015
Martin Pearson is back again for his annual visit to his favourite folk club! What other club has a logo drawn by Martin?
Martin is the world's funniest male, long-haired, Victorian, piscean folk singer. Formerly of the act "Martin Pearson", Martin has rose to fame like a dead pigeon in a water tank. Martin plays the fool in B sharp. He is a very funny satirical performer. He has been amusing, even thrilling audiences around the globe for ages now, and if you haven't seen him live - you're missing out. Martin tickles the funny bone. The act is full of scintillating, he has an ability to take current events and observations of everyday life, and turn them into side splitting comedy routines.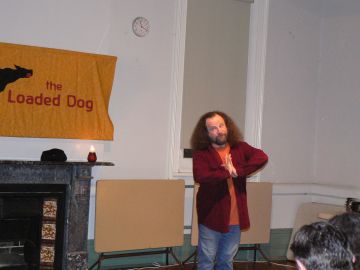 Testimonials from -
LES BARKER - Martin is a wonderful performer and person; I have worked with him extensively in Australia, and would very happily do so again. And again. He's a witty and spontaneous comedian with a huge repertoire of both serious and comic songs from several sides of the globe; he'll provide you with a wonderful evening of laughter and thoughtfulness; and if you're a festival organiser you'll also find him ideal for workshops on any number of topics, filling in gaps, sitting in bars and leaning against buildings; I recommend him wholeheartedly.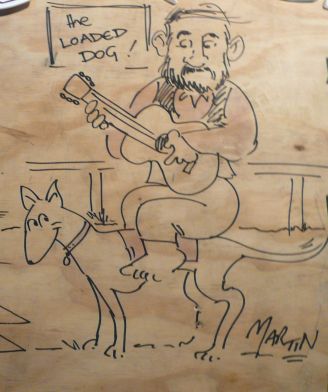 and BERNARD BOLAN - Martin Pearson has built up an enormous following of people in the places, and they are many, that he has lived in and visited around Australia. But let us not dwell on his creditors. Here we have a fine singer and musician, to be sure; commentator, indeed; but splendidly, most of all we have a consummate comic performer with touch and timing of the very highest order.

PLUS
Two songwriters are providing the support at the October Loaded Dog - Glenys Eddy and Brian Jonathon. About three years ago when the folk scene started holding monthly singing sessions at the Gaelic Club, Glenys and Brian stood out as being particularly keen to sing songs on the nominated theme, frequently writing something relevant. And that energy has continued now that the session has moved to the Bush Music Club's hut in Marrickville. They have developed both as singers and songwriters in that atmosphere. They both play guitar and enjoy choruses ...
Loaded Dog Folk Club
Annandale Neighbourhood Centre, Back Hall
79 Johnston St, 8pm (doors open 7.40pm)
$18/20, BYO, supper available.
Bookings & enquiries Sandra (02) 9358 4886