The Wheeze & Suck Band + Charlie Ipcar (USA) @ The Loaded Dog

8pm, Saturday 27th October 2007
By Sandra Nixon
Posted Thursday, September 20, 2007
The Loaded Dog Folk Club
Annandale Neighbourhood Centre
79 Johnston Street
Annandale NSW 2038
Entry: $14 ($12 concession incl. Folk Fed members)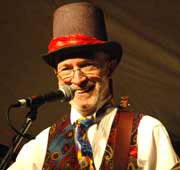 The Wheeze and Suck Band are a five piece group featuring guitars, mandolins, fiddle, melodeons, percussion and vocals, performing an exciting mix of traditional, contemporary and original folk music.

These costumed 'mad hatters' sing rousing sounds and soulful ballads in exquisite four part harmony and play high energy instrumental dance tuns which can often lead to audience participation and revelry.
The Wheezers formed in 1997 around a nucleus of folk musicians and Morris dancers who shared a desire to sing a principally UK traditional repertoire. Over the years this focus widened to embrace Cajun, Appalachian, Australian and French music, as well as a growing repertoire of irresistible original songs, including 'Rag and Bone', runner up in the 2004 MusicOz songwriting Awards, 'Johnny in the Morning', runner up in the 2005 MusicOz songwriting Awards, and 'Tyburn Fayre', winner of the 2005 Australian Association of Songwriters Award.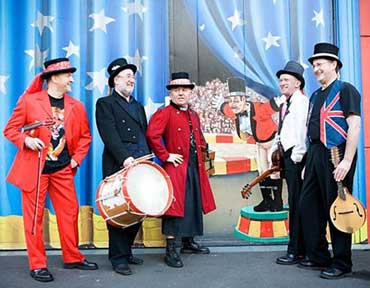 The Wheeze and Suck Band are, Ian 'The Pump' Macintosh, John 'Red Tips' Milce, Tony 'Pyro' Pyrzakowski, Geoff 'Woody' Woodhead and Nigel 'Muddy' Walters.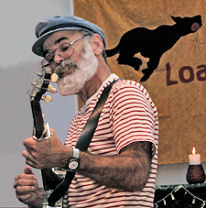 Charlie Ipcar (Maine, USA)
Charlie formed his first folk band in 1960, and has been singing ever since. He is a member of the shanty group Roll and Go, and sings a wide range of songs, including protest and sea songs. He has made a special study of sea poems & has set many to music. This is his 3rd trip to Australia, and he will also be appearing with Danny Spooner at Maldon Folk Festival.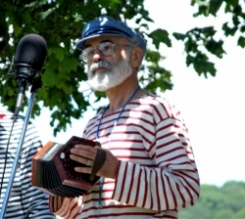 Charlie has released two CD's as a solo performer: 'Uncommon Sailor Songs' in 2004 and 'More Uncommon Sailor Songs' in 2005. Both of these CD's include traditional songs, nautical poetry that he has adapted for singing, and original songs. He accompanies most of the songs with the 5-string banjo or Anglo concertina.