Folklore + MaD aDaM @ The Loaded Dog,

8pm, doors open 7.40pm, Saturday 25th July, 2015, Annandale Neighbourhood Centre, Back Hall, 79 Johnston St, Annandale
By Sandra Nixon
Posted Friday, June 12, 2015
Folklore + support MaD aDaM
From murder ballads and songs of revenge to sea shanties and songs of the seasons. From Bard song to beautiful and tender love songs, the joy of lovers re-united, the symbolism of flowers and trees, toe tapping, skirt swirling fiddle tunes and evocative mist swirling Harp Airs. Folklore explore the depths and breadth of the folkloric canon to bring you the music that inspires and fires them.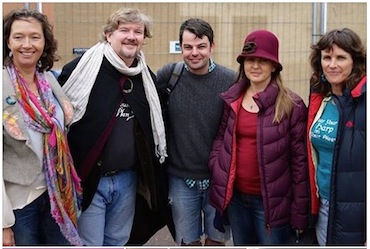 5 fine vocalists and musicians, Rosie McDonald - Guitar & bouzouki, Fiona McVicar - fiddle & bouzouki, Cliona Molins- Para-Celtic Harp, ukelele & percussion, Anthony Woolcott - bodhran, Ken O'Neill - guitar & bouzouki.
+ support MaD aDaM
Putting instruments in their places.
With a lifetime of harmony singing behind them, Miguel Heatwole and Dallas de Brabander combine forces to deliver an exciting collection of original and contemporary folk harmony duets and solo pieces infused with humour, drama, politics and passion.
​MaD aDaM admires songwriters and contemporary folk singers, such as: Paul Spencer, Brian Bedford, Ecopella, Clark Gormley, John Warner, Kath Tait, Graham Moore, Huw Williams, The Devil's Interval, Alistair Hulett
Loaded Dog, Back Hall, Annandale Neighbourhood Centre,
79 Johnston St, 8pm (doors open 7.40pm)
$18/20, BYO, supper available.
enquiries Sandra (02) 9358 4886, www.theloadeddog.org.au