Chris While & Julie Matthews @ The Loaded Dog

8pm, Saturday 24th August 2013. Doors open 7.40pm
By Sandra Nixon
Posted Thursday, May 16, 2013
Our previously advertised act, Dennis O'Keefe is unable to join us due to illness, but will be back next year.
Winners in the Best Duo category at the 2009 BBC Radio 2 Folk Awards and nine times nominated since 2001 in the Best Duo, Best Song & Best Live Act categories.
Chris While and Julie Matthews' musical partnership began in 1993 when they were key members of the legendary folk super-group The Albion Band. In 1997 they left the band to concentrate on their work as a duo which has seen them tour throughout the world and gain an ever growing devoted fan-base. Their songs have been covered by a range of artists including Mary Black, Barbara Dickson, Christine Collister and Fairport Convention.
Chris While - Vocals, Guitar, Banjo, Dulcimer, Bodhran and Percussion. Chris's long-time association with legendary folk-rock band Fairport Convention saw her take the place of the late Sandy Denny as the band's original 1969 line-up and performed the groundbreaking album Liege and Lief at the 2007 Cropredy Festival, an event later broadcast on BBC Radio 2.
Julie Matthews - Vocals, piano, Guitar, mandolin, bouzouki, accordian and ukulele. Described by Folk Roots as awesomely talented Julie is a key songwriter for the Sony Award winning series of Radio Ballads, made for BBC Radio 2 in 2006 and 2012. In early 2010 she joined Rory McLeod, Boo Hewerdine, Jez Lowe and Ruth Notman in the song-writing project "All Along the Wall", celebrating the history of Hadrian's Wall in music and poetry.
Chippo Days is the magic that happens when three former flatmates are brought together through the irrepressible charms of a folk singer and sometimes rocker from New York. Drawing from the rich traditions of Irish, Scottish and English folk, American Old Time music, gospel, a touch of bluegrass, the blues, jazz, Australian bush music, a little bit of good ol' rock n' roll, and their own original songs and tunes, Chippo Days brings a fresh and modern sensibility to the folk and roots sounds. Chippo Days' sound is fresh, exciting and thrilling to hear. All members of the band are multi-instrumentalists, and accomplished singers.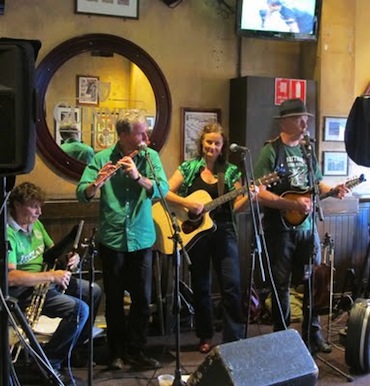 Loaded Dog, upstairs Annandale Neighbourhood Centre, 79 Johnston St, 8pm (doors open 7.40pm)
$18/20, BYO, supper available.
enquiries Sandra (02) 9358 4886, www.theloadeddog.org.au
Note - door prices have risen as the Dog's rent has doubled to align the Annandale
Neighbourhood Centre with other Leichhardt Council properties