Sydney Trade Union Choir & Maurie Mulheron share the bill @ The Loaded Dog, Sat 28th Sept

8pm, Saturday 28th September 2013, doors open 7.40
By Sandra Nixon
Posted Monday, July 8, 2013
Maurie & STUC have appeared at the Dog before, but never together, so don't miss this concert.
In this Brave New World we need to Stand up, sing out and be counted. And, as Maurie said, we need to sing even louder!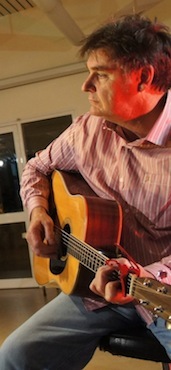 Maurie Mulheron has been performing in folks clubs, festivals and theatres since the 1970s, as well as the odd picket line and protest. He is a Life Member of Sydney's New Theatre having worked there as a performer, musical director and playwright. He wrote and produced Pete Seeger's musical biography, One Word...WE! which played to full houses where ever it was produced and which featured Jeannie Lewis. Maurie's research for the show eventually led him to Pete's back porch at his house on the banks of the Hudson River, where the two of them sat and sang songs.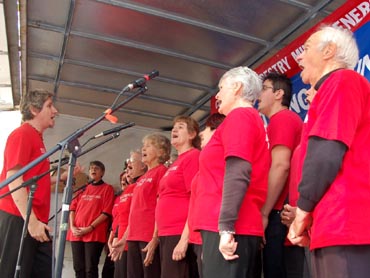 The Sydney Trade Union Choir was founded in 1991 as an amateur choir with strong labour movement connections.
Over the past nineteen years, the choir has performed at a variety of events, including peace rallies, union conferences, folk festivals, picket lines, memorials and celebrations. Choir members come from many walks of life – teachers, public servants, nurses, welfare workers and wharfies. The choir's repertoire covers songs of peace and social justice, historical Australian songs, songs about the universal struggle for democratic rights, industrial and political songs both serious and humorous.

We are using the back Hall this month
Loaded Dog, Annandale Neighbourhood Centre, 79 Johnston St, 8pm (doors open 7.40pm)
$18/20, BYO, supper available.
enquiries Sandra (02) 9358 4886, www.theloadeddog.org.au
Note - door prices have risen as the Dog's rent has doubled to align the Annandale
Neighbourhood Centre with other Leichhardt Council properties