Alistair Brown (UK) + Jim Low @ The Loaded Dog, Saturday 12th March, 2016

8pm, doors open 7.40pm, Sat 12th March 2016 (2nd Saturday) Annandale Neighbourhood Centre, 79 Johnston St, Annandale.
By Sandra Nixon
Posted Tuesday, December 8, 2015
Alistair Brown (UK)
Alistair has been singing the old songs, and new songs written by people who like the old songs, since he was fifteen years old. He began his career helping out in the folk clubs of his native Scotland during the folk revival of the 60s, selling tickets, & opening bottles (and occasionally concerts) for many of the great names in folk music.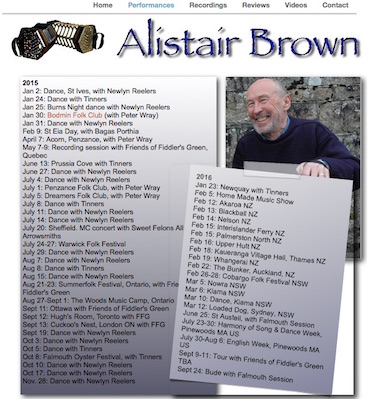 From 1972 to 2002, he lived in Canada, where he was active in many aspects of folk song and dance, as a recording artist, radio broadcaster, reviewer, columnist, festival director, dance teacher, university lecturer, and program director at folk music and dance camps. With several visits each year, he continues to make regular appearances in North American folk clubs and festivals, performing solo, or with the Friends of fiddler's Green, a band which celebrated its fortieth anniversary in 2011, without maturing in the slightest. (In the folklore of folk music, Friends of Fiddler's Green are known as the inspiration for Stan Rogers' Barrett's Privateers!)
In 2002, he returned to the UK, to live in Cornwall, on England's Mediterranean coast, where he calls dances with the Newlyn Reelers and Tinners, and performs regularly in folk clubs, festivals, pub sessions and several ancient seasonal rituals that require the presence of accordions.
When he's not performing solo, he sings and plays with Peter Wray. He is also a member of the Golowan Band, which leads the processions for the Mazey Day festivities in Penzance, and numerous other Cornish festivals. He joins Bagas Porthia several times a year to take part in St Eia Day celebrations and to lead the guisers around at midwinter.
Audiences at concerts and festivals across North America, Australia, New Zealand and the UK have responded enthusiastically to his performances, covering the field from big ballads, comic ditties, songs of struggles (usually unsuccessful) against temptation, odes to conviviality and songs of unashamed sentimentality, to outrageously funny stories from a master of the art - all this accompanied by anglo concertinas and button accordion.

Jim Low
returns to the Dog with his latest CD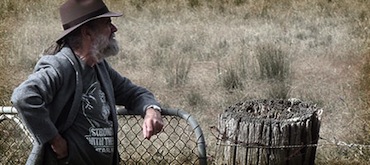 Jim Low is a singer/songwriter and author who lives in the Blue Mountains. He was born and raised in North Sydney, leaving the district in 1970 to begin a teaching career in the country.
It is said that he creates and sings songs that get to the heart of the story, entertain and beg to be listened to again. He has a deep interest in Australian history having written books, articles, and school learning materials on Australian themes. Jim has performed his songs in clubs, restaurants, concerts and festivals. He has released a number of CDs and his music has been played throughout Australia and used in documentaries.
Jim's songs deserve to be heard, respected folklorist and performer Warren Fahey OAM says. They are genuine story songs that have a direct link to this land and this precious culture of ours. In many ways the songs link us to our history in the same way traditional songs served us in allowing us to record our emotional history.
As the late well-known singer/songwriter Gary Shearston said: Jim travels gently, digs out rich nuggets of Australiana, observes them acutely and with compassion, and then puts his historical vignettes to melodies that pass 'the old grey whistle test' with distinction. Go with him on his travels. I think you'll enjoy the journey.

*********************************

Loaded Dog, Back Hall, Annandale Neighbourhood Centre,
79 Johnston St, 8pm (doors open 7.40pm)
$18/20, BYO, supper available.
enquiries Sandra (02) 9358 4886, www.theloadeddog.org.au

.