The Camelot Lounge - CHANGE OF VENUE - The Battlefield Band

Doors Open 7.30pm - Concert starts 8.00pm, Wed 14th March 2012
By Roger Fyfe
Posted Tuesday, January 24, 2012
The Battlefield Band (Scotland)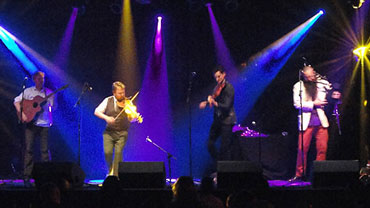 Tonight we're privilaged to have the Battlefield Band play a Close up & Intimate Concert at The Camelot Lounge Marrickville, just 2 mins walk from Sydenham Station. The Battlefield Band have been a bedrock of talent for over four decades, and continue to lead the way for Scotland with their inspired fusion of ancient and modern traditional music and song. NOTE: The Venue has been moved from Cafe Dalor to The Camelot Lounge who welcome the band and audience to Sydney for what promises to be an enchanting & memorable performance.
Scotland's great flagship band are the musicians that others measure themselves against, and their new album 'Line-up' finds them fresh and invigorated, illustrating once again that they are among the most relevant contemporary composers and interpreters of Celtic music today. Founded by a group of friends in 1969 and named after the 'Battlefield' area of Glasgow, the band have now been touring & performing throughout the world for over forty years, playing to audiences in Europe, Australia & New Zealand, Asia, the Middle East & Canada, as well as more than 60 cities annually in the United States. Ever evolving; over the years new members have brought with them new ideas, music, instruments, attitudes and influences, leading to continued creativity, freshness and enthusiasm. The new line-up includes young multi-instrumentalist Ewen Henderson, and has been received with great acclaim on their US, Canadian & UK tours, as the group move on to a new, exciting period in their musical development
At the inaugural Scots Trad Music Awards in 2003, Battlefield Band were awarded 'Best Live Act'. These respected awards celebrate Scotland's thriving traditional musical scene. Still at the forefront of the scene after 40 years, the group are very pleased to have been nominated again for the Scots Trad Music Awards 2011: this time for 'Scottish Folk Band of the Year'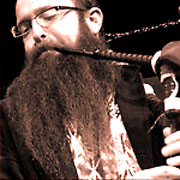 The Band members are: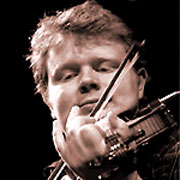 MIKE KATZ (left) - Highland Bagpipes / Small Pipes / Whistles / Bouzouki / Guitar / Bass. A superb piper from an early age and a highly versatile all round musician with eclectic influences, Mike joined Battlefield Band in late 1997 and has contributed massively to the music and accessibility of the group. Originally from LA, (where he played in the same pipe band as another band alumni; Eric Rigler), Mike moved to Scotland aged 18 to study at Edinburgh University and put down roots, remaining here ever since. He played in the Scottish Gas Pipe Band & Ceolbeg before joining Battlefield Band, and has earned himself a deserved reputation on the scene & amongst his peers as a truly excellent 'musician's musician' and tunesmith.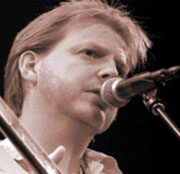 ALASDAIR WHITE (above) - Fiddle / Whistle / Bouzouki / Highland and Small Pipes Alasdair comes from the Isle of Lewis, one of the Gaelic speaking Outer Hebrides where music and culture remain strong daily forces. An award-winning fiddler from an early age, he was described at the time as a "13 year-old maestro of the Highland fiddle playing surging strathspeys and reels with maturity and expertise beyond his tender years". He joined Battlefield Band at the age of 18, as complete a musician and composer as any of us had heard. Since then, still in his early twenties, he has toured the world several times over and worked on many fine albums including a highly acclaimed debut solo CD, confirming his reputation and firmly establishing himself as a unique talent & virtuoso fiddle player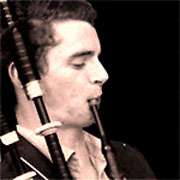 SEAN O'DONNELL (above left) – Vocals / Guitar
A highly accomplished guitarist and singer, Sean was born in Derry, Northern Ireland. He moved to Scotland in 1996, and quickly became involved in the music scene, playing with the award- winning Scots Irish band Bionic and The Emily Smith Band, as well as the Michael McGoldrick Band, Deaf Shepherd, and Daimh. He joined Battlefield Band in 2005 and has become a keystone of the group's sound: his soulful vocals and driving rhythmic guitar adding so much to the mix. As a recent reviewer noted: "O'Donnell is a revelation; from his heartfelt & moving vocals when taking the lead, and his subtly complimentary harmonies when supporting a song, he is a truly expressive singer who has matured and developed over his period with the group"
EWEN HENDERSON (above) - Fiddle / Highland Bagpipes / Small Pipes / Vocals / Piano / The latest recruit to the group, Ewen hails from the Scottish West Highland town of Fort William, and has been naturally steeped in the traditional music, Gaelic language and culture of the area. Now in his early twenties, he started learning the fiddle at the age of five, and has since mastered an impressive array of instruments, having had the privilege of being taught by many of the true masters of West Highland traditional music, whilst also being influenced by his strong family musical heritage. Ewen is superbly talented, and has quickly established himself as a strong musical force within the band. We look forward to playing with him and to introducing another great musician to our worldwide audience.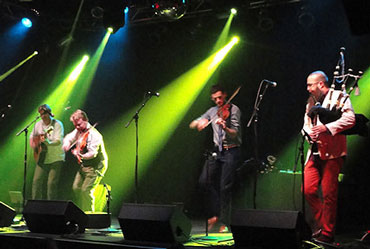 TICKETS:
Entry at Door = $45.00
Pre-purchase = $40.00 (pay by Monday 12 March for postal delivery)
Children under 18 = $30
*SPECIAL* Performers & Supporters of Café Dalor Open Mic March 2011 - March 2012 - $30 (Pre-pay by Monday 12 March for postal delivery only)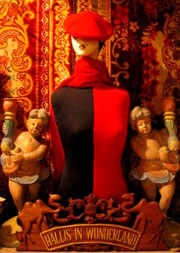 FOR TICKETS & Enquiries CONTACT > BERLSA TRADING: (02) 8678 8376 / 0412 602 983
or Berlsa Trading via Smallstage

The Camelot Lounge
19 Marrickville Road, Marrickville (cnr Railway Pde), 2 min from Sydenham station.
Camelot Lounge General Info: Tel:(02) 9550 3777
Supported by Smallstage, Camelot, Berlsa Trading.

Ticket distribution, Promoter & Agent: BERLSA TRADING: (02) 8678 8376 / 0412 602 983