Angelvoices Cabaret

7pm, Wednesday 12th March 2008
By Irene Sarrinikolaou
Posted Friday, February 1, 2008
When you put an opera singer and a classical pianist in the same room, you don't usually end up with a cabaret!! But then again . . . you might!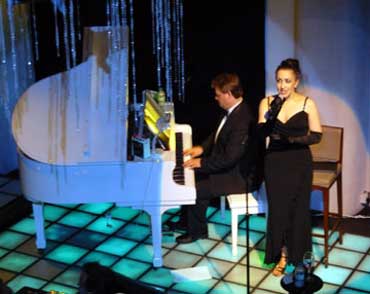 Brett Pajnic is a concert pianist, who is composing an opera based on Emily Bronte's 'Wuthering Heights'.
And then there's me, Irene Sarrinikolaou, who is learning the role of Floria Tosca, and the Artistic Director of Angelvoices.
Our rather unlikely cabaret-duo will be performing at the Slide Bar & Restaurant on Wednesday 12th March. We'll do some showtunes, and try to resist singing something operatic . . . can't make any promises though!
If you'd like to join us in this amusing endeavour, please book - it's a small venue and there won't be tickets at the door. And let me recommend that you try the dinner also - after all, it is prepared by resident chef who trained in the French gourmet tradition . . .
Gourmet + cabaret: $60
Show only: $20
Slide Bar & Restaurant
41 Oxford St, Sydney
Book through venue on: (02) 8915 1899
Hope you can join us - you'll have a fabulous night!
Irene Sarrinikolaou