Surry Hills Shape Note Singers 2nd All Day Singing
Saturday 5 October 2013
9.30am-4.30pm
By Judy Jones
Posted Tuesday, July 16, 2013
Erskineville Town Hall, 104 Erskinville Road, Erskineville
One year on from Australia's first All Day Singing in October 2012 and freshly returned from a first jubilant All Day Singing in Melbourne, it is safe to say that Sacred Harp Singing is alive and kicking in Australia.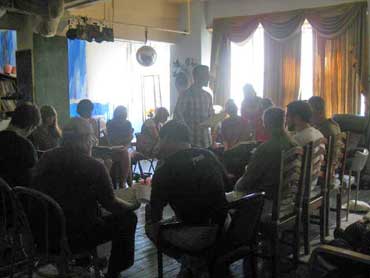 The Surry Hills Shape Note Singers warmly invite you to what promises to be a special day of community, fellowship, friendship and rowdy song on Saturday 5 October 2013.
They will sing songs from the Sacred Harp, an American tune book containing more than 600 four-part acapella songs - from flying fugues, to raucous melodies and haunting melodies and harmonies. The music is written in the shape note tradition and they sit in a hollow square. The only rule is to sing loudly.
The day will run from 9.30am to 4.30pm with a shared pot luck lunch on the grounds.
Bring your lungs and your love of song. No experience necessary, all are welcome. All you need is a desire to sing.
There will be an evening knees up and more informal singing on Sunday 6 October 2013.
Bring some food to share for our lunch on the grounds. Suggested donation to cover costs is $20 or whatever you can afford.
Come and sing and be merry!!!
For more information on sacred harp visit the Sacred Harp Singing web site.