Sing Shanties on a real Square-Rigger

7.30pm, Thurs 16th November 2006
By Mike Richter
Posted Tuesday, October 24, 2006
If you would like to join in to a Sea Shanty singing session aboard the fully restored and operational square-rigger, the James Craig, come along to:
Wharf 7 Darling Harbour
7.30pm on Thursday November 16th.
Cost: Only $2! (to cover supper)
Info: Mike Richter (0419) 992 119 or (02) 9476 3861
The next session will be a chance to see a performance you would otherwise have to travel to Tasmania to see!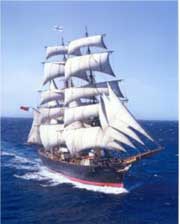 Trawling the Southern Oceans has been developed for the Cygnet Folk Festival by two excellent performers under the name of "Southern Cross Trawlers". Margaret Walters and Don Brian are also regulars at our Shanty Singalongs.
Margaret Walters and Don Brian share an interest in Australian traditional songs, especially those with a maritime content. They have pooled their talents for unaccompanied singing and for trawling through obscure sources for unusual material.
"Trawling the Southern Oceans" considers the maritime history of the southern ocean from the convicts destined for the penal settlements at Port Arthur and the infamous Macquarie Harbour, attempts to escape, the perils of wild Bass Strait, shipwrecks, whaler men and sealers, intrepid explorers – Tasmania's history provides a wealth of enthralling stories that have been told in song and verse. Jennifer Lees will be joining Don and Margaret in this presentation.
Margaret Walters has been active in the NSW folk scene for many years - singing and recording as a soloist - For the Future and the Past and Power in a Song; with the group, The Roaring Forties - Hazard Hardship and Damned Little Pay, Shore Leave, and their most recent recording, John Warner's song and verse cycle, Yarri of Wiradjuri); and in a duo with songwriter, John Warner - Pithead in the Fern, Who Was Here?.
Margaret is renowned not only for the quality of her voice and her sensitive interpretations of folk song, but also for her extensive repertoire. Frequent tours in England reinforce her love of unaccompanied song in harmony, and she has teamed up with the legendary Danny Spooner from time to time. (www.margaretwalters.com)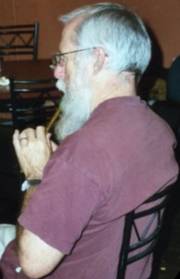 Don Brian is the Australian folk scene's best kept secret, but is highly esteemed by the circle of Sydney folkies lucky enough to be in contact with him. For three decades Don has been collecting and absorbing songs, verse, history and folklore from the field and other primary sources including ships logs and old journals.
For many years he lived in rural New South Wales; he played in a bush band in Wagga Wagga and since moving to Sydney ten years ago, he has been active in the Bush Music Club. Don plays tin whistle and concertina.
He has a sonorous bass voice, perfect for bush songs, and his flowing beard and laconic style of delivery make him the archetypal bush man. He has teamed up with the Roaring Forties in their most recent major presentations – Tolpuddle : the Australian Connection and Yarri of Wiradjuri.
We usually have a break for supper after the main presentation, with delicious treats prepared by Dawn. Then we have a Shanty Circle singalong and we finish around 10.30pm. The cost is $2 to cover supper.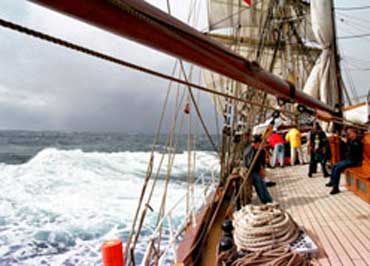 If walking from the city, walk over Pyrmont Bridge, turn right in Pirrama Road, walk past the big white National Maritime Museum and straight ahead you should see the James Craig.
The closest public transport is Pyrmont Bay station for the Light Rail.
Limited parking is available at the National Maritime Museum - contact me for details
Mike Richter (0419) 992 119 or (02) 9476 3861