Kate Maclurcan & The Loose Ends
Kate celebrated her 60th birthday by producing her first full length CD A New Day. Of the 17 songs, Kate wrote three: a jaunty song about her Dad, her robust Australian version of 'This Land is Your Land' and the title track, 'A New Day', a touching song about finding the courage to pick up the pieces and move on when life shatters .. .plus songs by Buffy St Marie, Guy Clarke, Neil Diamond, Kristina Olsen, John Prine, Kris Kristofferson, Richard Thompson, Chris While, Eric Bogle & Pat Drummond.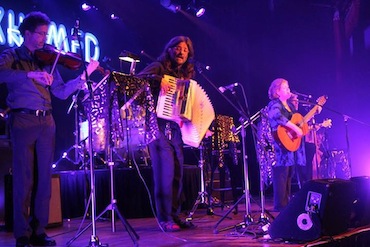 Kate plays acoustic guitar and has a warm, wonderfully nuanced voice… the songs convey much feeling and humanity.She is best known for running very popular community choirs in Narrabeen, Balmain & North Sydney. Since she recently spent time with Kris Kristofferson, her most recent choirs featured 'The Songs of Kris Kristofferson.' This term it is Creedence Clearwater Revival!
The Loose Ends are Wayne Richmond (accordion & piano), Noni Dickson (harp), & Gial Leslie (glockenspiel), Rob Bullen (guitar & bass).

********************************************
Report on EXHUMED 2014 - 'the best bands you've never heard of'.
The last chance competition for unsigned, unrecorded, unrepresented, undiscovered, uncharted, unknown, more or less unwanted bands.
Not for would-bes. Not for has-beens. This is for never-weres.
WHAT A GLITTERING NIGHT IT WAS!! Nine bands competing for the Exhumed crown for 2014. The winners were, deservedly, George Spade and The Foxin' Hounds who did a great set. The three judges: Kirk Pengilly (INXS), Rosie (Triple J) & Richard Glover (ABC Drive presenter). We performed 'Our Town' & Kate's Australian version of 'This land Is Your Land'. All judges were exuberantly enthusiastic about our performance. Each judge chose their favourite band and Richard Glover chose us for his Judge's Special Commendation Award!
********************************************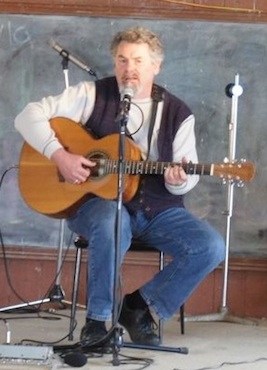 plus support
Greg Hudson
From Lawson in the Blue Mountains Greg sings songs strongly influenced by personal narrative, social justice and political themes in both traditional and contemporary settings.
Loaded Dog, Back Hall, Annandale Neighbourhood Centre, 79 Johnston St, 8pm (doors open 7.40pm)
$18/20, BYO, supper available.
enquiries Sandra (02) 9358 4886, www.theloadeddog.org.au