John Broomhall Trio + New York Public Library @ The Loaded Dog

8pm, Saturday 23rd August 2008
By Sandra Nixon
Posted Thursday, July 10, 2008
John Broomhall Trio
John Broomhall, Johnny Spillane and David De Santi have been part of the Australian folk music scene for over 20 years performing in various bands and contributing to the organisation of festivals and events. They all enjoy performing Australian material and sharing it as well in sessions and informal workshops and performances.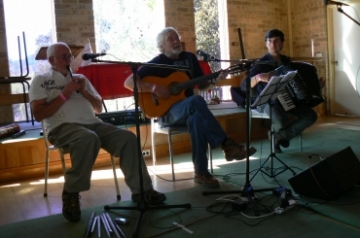 John sings and plays guitar; Johnny plays whistles, and Dave wheezes on the piano accordion, button accordion and concertina.
John has been a prolific songwriter in the traditional Australian folk style with a number of albums: Broken Hill Miner, Free as the Breeze and Driftin Down the Darling. He originally hails from Broken Hill, but has lived in the Illawarra enough years to become a local. Many of his compositions are based on his intensely personal recollections of his childhood and his love of the desert landscape of Broken Hill. In contrast he spent the last few years as the resident bard on the sailing ship, The Bounty, moored in Sydney Harbour.
Johnny, originally from Cork in Ireland, has been a stalwart of traditional music playing in many Celtic and Australian flavoured bands.
David De Santi, in addition to being a member of Wongawilli, has researched and published Australian traditional music since 1990. Together all 3 weave a musical journey through Australia's history.
New York Public Library -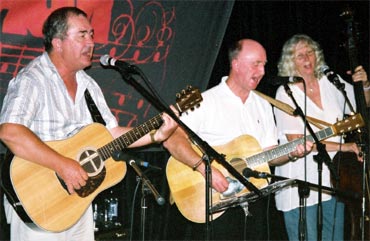 Sydney based band with over 30 years of hard driving bluegrass rhythms, closely blended three-part harmony & madcap humour: from bluegrass to folk, contemporary country or a samba that went very wrong.
The New York Public Library are a Bluegrass, Irish and Country Music band, with lots of comedy thrown in, and feature close three part harmonies - 5 string banjo, mandolin, guitar and double bass. They play some Irish songs and some country songs, some John Denver songs, some Kingston Trio songs and some Dixie Chicks songs . They even do songs like Back in Nagasaki (where the fellers chew tobaccy) – basically, they do pretty much everything.
John Flanagan (mandolin and guitar)
Warren Boyd (banjo, guitar and double bass)
Isabelle Fogarty (double bass and ukulele)