Anne Ridgway + Mothers of Intention @ The Dog

8pm, Saturday 25th August 2007
By Sandra Nixon
Posted Tuesday, June 26, 2007
The Loaded Dog Folk Club
Annandale Neighbourhood Centre
79 Johnston Street
Annandale NSW 2038
Entry: $14 ($12 concession incl. Folk Fed members)
Anne Ridgway
is a contemporary singer-songwriter playing 6 and 12 string guitars.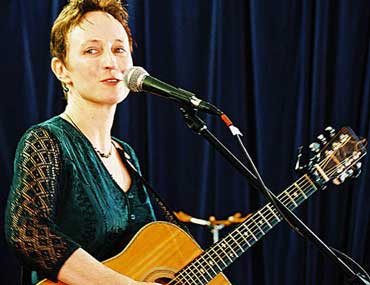 A soaring pure voice and unusual, ambient tunings on 6 and 12- string guitar describe the music of Anne Ridgway. Her original songs are a collection of poetic and thought provoking ballads revealing the power of the human spirit in adversity and love combining lyrics exploring a variety of themes from the injustices of poverty and war to the simple joys of everyday living. The musical arrangements include acapella harmonies and strong vocal melodies enhanced by intricate guitar work and chord progressions, flowing violin sounds, anchored by the deep richness of a double bass.
Anne has the true artists' quality of expressing her soul through her art, and so doing with a uniquely personal voice.
and

The
Mothers of Intention
are a spirited four piece band sharing a love of music and an enduring friendship. With vocals, guitars, fiddle, mandolin, recorder, bodhrans and doumbek.

Their extensive repertoire includes a vibrant mix of Celtic, Folk, Original and Folk inspired covers. From Irish standards, soulful ballads sung in three part harmony to fast jigs and reels and slow airs. An eclectic mix of music to dance or listen to.
They have been together for six years and are a popular band being regularly booked at Folk Festivals, Clubs, Community events, weddings, Celebrations, Corporate and private functions.
The 'mothers' have a warm presence on stage and the music appeals to a wide range of people, from the young through to all ages.
Supported by Bright Star Singers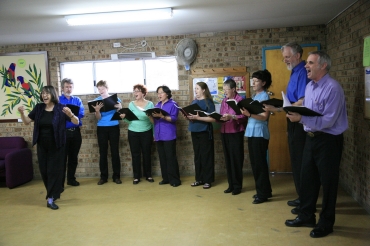 "Bright Morning Stars Are Rising" is the opening line of the gospel song which is the inspiration for the name of the a cappella group, the Bright Star Singers. While they have taken their name from the gospel song, their repertoire is varied and eclectic, ranging from folk songs to 70's "do wop" to Christmas carols.