2nd Fundraising Concert for Animal (OAM)

7.30pm, Fri 17th November 2006
By Jenny Watson
Posted Thursday, October 19, 2006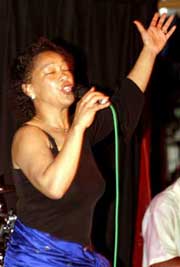 The last guest night and fundraiser for Animal with Loosely Woven and others was a huge success with us all having a fantastic uplifting night and raising a phenomenal $900 for Animal's wheels. We are now only $1,000 short of achieving the goal of getting him back on the road. Another concert has been organised which will, hopefully, get us close to what we need.
The main act will be South African born Trude Aspeling, a fantastically warm, inspirational and uplifting entertainer. Her repertoire includes soul, jazz, gospel and world music. She recently launched her latest CD 'Sublime' at the Basement which you can purchase on the night for $25.
Here is what the London Press said about her:
The lady's laughing eyes andn husky voice lulled the crowd into silence. All her songs demanded attention and got it - even the bar grew quiet.

Miss her at your peril - she is outstanding.
The support act will be The Bamboozlers, a two piece band who have been performing semi-professionally for 7 years. Phil Graham plays a mean banjo.
Café Church Space
37 St Johns Road, Glebe
Cost: $12 (Conc. $10)
Home-made supper $2.
Information: Jenny (02) 9576 2301