St. Albans Folk Festival - 24th-26th April 2009
St. Albans Folk Festival - 24th-26th April 2009

www.snalbans.iwarp.com
Posted Friday, February 27, 2009
St Albans Folk Festival will be held once again over the Anzac weekend, starting Friday Evening, 24th April to Sunday Afternoon 26th April.
The festival will display the best performer line-up ever including the Beez (Germany), Ami Williamson, Enda Kenny (VIC), Marcus Sturrock (WA), Pat Drummond & Karen Lynne, Debra Manskey (TAS), Racz n' Waters, Acoustic Shock Trio, Wheeze & Suck Band, Mothers of Intention and many more.
In addition to the usual Friday and Saturday performances, this year will see a quality concert featuring the headline acts run from 10 o'clock Sunday to mid afternoon to allow day trippers an additional opportunity to catch these performances.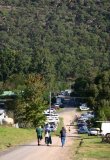 The festival will also feature many workshops, a bush dance, the chorus cup, a silent auction and a market of food vendors and craft.
Camping will be available at various locations around the village where some is free and others incur a small charge.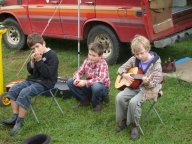 For ticket information and the full program see www.snalbans.iwarp.com or
phone Bilbo 02 4958 4033 or
email stalbanstickets@gmail.com