Ukulele Land #3

22-23rd September 2006
By Rose Turtle Ertler
Posted Friday, September 1, 2006
Beginners workshop + concert
Friday 22nd September 2006
Wongawilli Community Hall
Wollongong
Presented in conjunction with the Illawarra Folk Club
A beginners uke workshop with Mike & Di Jackson will be followed by a concert of some fine ukulele players. MC: Nick Rheinberger (ABC Radio Illawarra & ukulele enthusiast).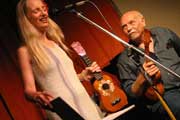 All Day Ukulele Festival
Saturday 23rd Sept 2006
St Stephens Church Hall
Newtown, Sydney
- free afternoon workshops (beginners & advanced)
- ukulele related market stalls
- evening concert.
Workshops include a beginners class with Mike and Di Jackson, an advanced class with Cameron Murray and Cook Island style uke with Pura Pura.
The market place will be outside in the garden from 2-7pm followed by the evening concert with some of the finest ukulele players around.