Madd Marianne and Fellowship of the Strings in Wollongong

8pm, Sat 18th February 2006
By Jackie Luke
Posted Wednesday, February 1, 2006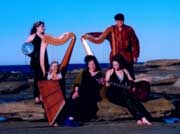 A unique concert on the 18th February will feature two of the finest bands in New South Wales, Illawarra's own Madd Marianne, and the Fellowship of the Strings from the Central Coast.

Hear harps, dulcimers, whistles, cellos, guitars, percussion, and superb voices in abundance.
This is acoustic music at its best . . . with a quirky edge!
City Diggers Club (Centre of Wollongong)
Folk Club Members: $10
Non-Members: $14
Bookings recommended - Phone: (02) 4296-9693