Kangaroo Valley Folk Festival

Fri 25th - Sun 27th Oct 2013
By Stuart Leslie
Posted Saturday, July 20, 2013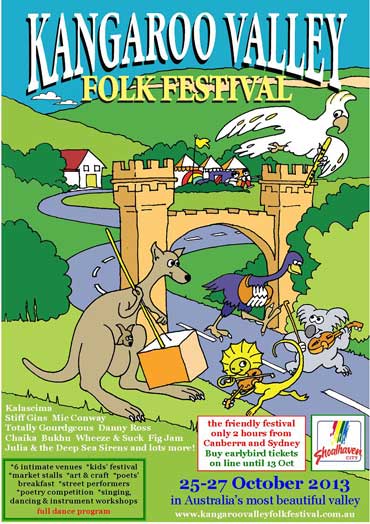 The draft program has been published. We think it's the best ever, with exciting acts from around Australia and overseas. Our featured international act is Kalascima from Italy, six young guys playing traditional music from Southern Italy. Australian artists include Stiff Gins, Totally Gourdgeous, Bukhu, Mic Conway, Wheeze and Suck, Alanna & Alicia plus 40 other acts in 6 venues.
What's New?
There's lots of new stuff this year including: expanded kids' festival with outdoor stage and dance floor; Sunday lunchtime concert in the courtyard between Jing Jo Cafe and the Pizza Shop; expanded bar area with two jamming areas and hosted music sessions; roving circus performers from Circus Wow; expanded outdoor stage with a fabulous freeform marquee, new poetry reciting competition and an outdoor gospel service at the Church of the Good Shepherd on Sunday morning.
Venues Around the Village
Most of the action takes place at the showground, but concerts and other activities are also being held at Kangaroo Valley Public School, St Joseph's Church, The Anglican Church and several cafes around the village. Compared to some of the larger festivals, all of our venues are small and allow you to get up close and personal with the performers. Poets will love our daily poets' breakfast.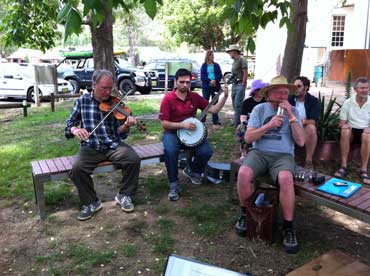 Kids' Festival
As usual, we have a fantastic kids' festival, featuring Mic Conway, Puppetfest and Folk, Super Kenny, Miss Molly's Maypole, Meet Milly Hula Hoops, Circus Wow, Naomi's Craft Tent and lots more. Accompanied children under 12 get in for free!
Written Poetry Competition
The written poetry competition has categories child, youth and open, plus the Crystal Creek Meadows Award Hand Made vs Mass Produced. Closing date is 3 October - apply at our website. This year there is also a Poetry Reciter Of The Year competition on Sunday.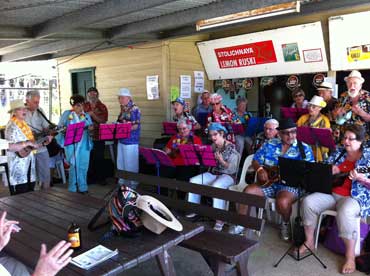 Dance Till You Drop
As usual there are dance workshops all weekend, plus a welcome bush dance in the hall on Friday night and the big festival dance in the hall on Saturday night. Workshops include Irish, Estonian, Bush, Contra, German, Morris, International, Bellydance and English.
Join in
Hang out in our famous session bar with the fabulous view of the valley's trademark red cliffs. Learn some new tunes at one of our hosted sessions or learn the finer points of singing, playing, dancing, poetry or songwriting at one of the workshops with our featured artists.
Camping
Camping is not allowed on the showground, but there are excellent facilities at Glenmack Park next door. Unpowered sites are just $12 per person per night and can't be booked in advance. Free camping is available at Bendeela 8kms away, serviced by our shuttle bus.
Volunteers Needed
A minimum of 6 hours volunteer work entitles you to a free weekend pass. Some volunteer jobs: set up before or pack up after the festival, ticket office, check wristbands at venues, bar (RSA required), waste team, venue management, traffic control, driving shuttle bus. Apply on line at our website.