Folk in the Foothills

Sunday 6th March 2005
Posted Saturday, February 5, 2005
A one day mini folk festival in Jamberoo Valley with the chance to see some great touring international artists plus Australian musicians and poets.
Over 20 concerts with 30 performers from 9 in the morning till 9 in the evening with a number of venues to choose from:
- a large concert room
- an intimate acoustic concert room
- the restaurant
- outdoor terrace &
- grove
all set in the picturesque and tranquil surrounds of the Jamberoo Valley Lodge.
Performers: Alistair Hulett (UK), Grey Larsen (US), Andrew Marchand (Canada), Simon Thoumire and David Milligan (Scotland), Mike Cooper (UK), Manuhiri, madd marianne, Wongawilli, Replay, poets and more to come!
Adult: $50 by 20th Feb 05 ($60 thereafter)
Child: Under 12 free with paying parent
Youth: (12-16): $5 with paying parent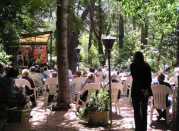 Bookings (1300) 887 034 or online