All Aboard! Catch the Music Train to the 26th Illawarra Folk Festival

Saturday 15th January & Sunday 16th January 2011
By Brian Dunnett
Posted Tuesday, November 2, 2010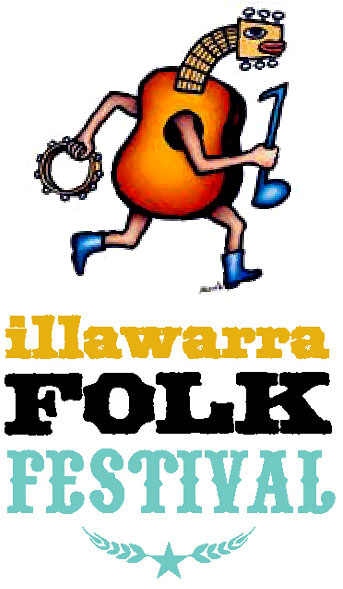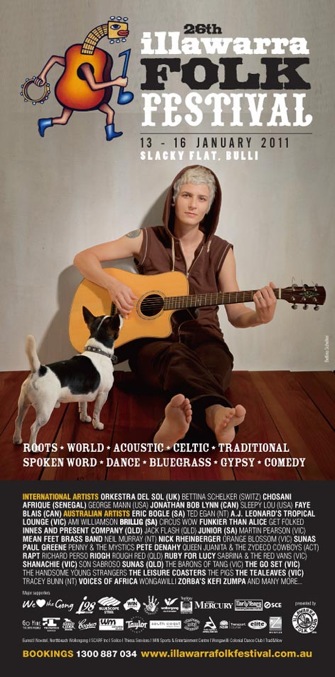 Take the Green Alternative.
BOOKINGS ESSENTIAL!
For bookings & further information please call Brian on 9668 9051
The historic Slacky Flat at Bulli will burst into party mode from 13-16th January 2011, when over 500 performers will converge for the 26th award-winning Illawarra Folk Festival.
Festival info 1300 887 034.
The festival is nestled at the base of the Illawarra escarpment only 1 hour south of Sydney, so it is the perfect opportunity for Sydney-based travellers to visit via train and experience the true spirit of folk music, dance, poetry and storytelling. There is something for everyone from young to old with 11 venues to choose from. The Illawarra Folk Festival is family friendly and weatherproof.
So if you're in Sydney and are coming to the Illawarra Folk Festival at Bulli on Saturday 15th or Sunday 16th January 2011 then there's no better way than to join the Folk Music Train.
The 8 dedicated carriages will not only ensure you travel in comfort in the most eco-friendly and safest way, but your festival will start when you step on the train. Musicians will entertain you on the trip to Bulli Station which is just five minutes walk to the Festival.

There is lift access from Bulli platform to the street.
Entry into the carriages is with a CityRail ticket and festival pass. You can pre-purchase your festival pass or purchase at the end of your journey at the Festival Office at the Showground.
Sunday is Family Funday on transport with $2.50 adult/child tickets!

TRAIN 1 - SATURDAY 15 JANUARY
Commences Bondi Junction at 8.13 am.
Departs 8.29am from Central Station platform 25.
Arrives Bulli 9.57am
CARRIAGE 1
Celtic Music Session with Adjusted John's Junk Band Association and Shanachie
CARRIAGE 2
Hurstville /St George area musicians and Poets Corner with Mineral Turpentine, Darren Whitaker and Roger Montgomery & John Angliss (WA)

TRAIN 2 - SATURDAY 15 JANUARY
Commences Bondi Junction at 9.13 am.
Departs 9.29am from Central Station platform 25.
Arrives Bulli 10.49am
CARRIAGE 3
The Bluegrass Session with The Southside Pickers from the Sutherland Tradies Bluegrass Club and Orange Blossom festival artist from Victoria
CARRIAGE 4
Inner City area musicians (Folk and Blues) with festival artists. CJ Shaw and his group of performers from the Erskineville Folk Club and Get Folked
CARRIAGE 5
Sutherland area musicians and performers with Women's Sutherland Singers / Merrywether and Dani Karis and her Bundeena Folk Band

TRAIN 3 - SUNDAY 16 JANUARY
Commences Bondi Junction at 8.13 am.
Departs 8.29am from Central Station platform 25.
Arrives Bulli 9.57am
CARRIAGE 6
Kids entertainment with King & Queen of Green and The Tale Spinners
CARRIAGE 7
The Singing Carriage with Sonia Bennett and Max Gregory and Buck & Deanne
CARRIAGE 8
Ukulele carriage with Denis Aubrey & The Somethings (Balmain Ukulele Club) and festival artist AJ Leonard's Tropical Lounge (Vic)
================
RETURN TRAIN TIMES from Bulli
Saturday & Sunday
approx. 1.30 hours to get back to Central
4.42pm
5.43pm
6.42 pm
8.14pm
9.08pm
10.08pm
11.48pm (last train)
================

Photos - Illawarra Folk Festival