The Ellis Collective Play Sydney, Illawarra & Newcastle

2nd-6th September, 2008
By Matthew Ellis
Posted Saturday, August 2, 2008
02/09/08 SYDNEY -The Vanguard w Chris Gillespie & The Wandering Hands and Leroy Lee - $10/$13 - 7pm
05/09/08 ILLAWARRA - Illawarra Folk Club w Frencham Smith - $8/$10 - 7:30
06/09/08 NEWCASTLE - The Lass O'Gowrie w The Understudy & T.M.W.D.W.G. - Free - 8:00
The Ellis Collective's front man - guitarist and vocalist Matty Ellis looks the sterotype. A singletted, VB scoffing bloke that picks fights at your local on a Friday night by jumping the $2 queue on the pool tables. He is quick to quash my first impressions "Yep, ignore the facade - we tell soft and sincere stories about the average Aussie suburbanite's heart-break, loss and redemption. I'm a bit of a walking contradiction really". It's folk roots music of the ilk championed by artists including Paul Kelly and John Schumann that audiences up the North Coast are certain to connect with when The Ellis Collective plays Sydney, Illawarra and Newcastle over the first week of September.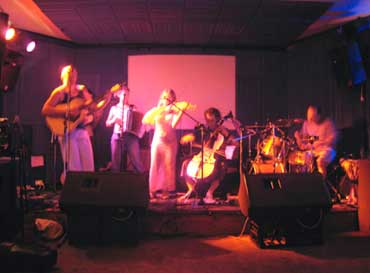 It is Matty's rough exterior that makes The Ellis Collective's rootsy storytelling all the more genuine and believable. Violinist Emma Kelly points out "If Matty was a pimply kid, with purple straightened hair and skinny leg jeans, It'd come off as 'poor me' you know?". The Ellis Collective's heavily dreadlocked cellist Gray chimes in, "Yeah, but you see a big bald tattooed bloke drinking scotch from the bottle telling you his life story about crying himself to sleep on stranger's couches and loving the wrong women - blokes identify with that and their wives and girlfriends understand it as being the softer side that most guys normally refuse to talk about.'.
Listening to The Ellis Collective is like attending a master-class in storytelling and instrumentation. Just listening, it doesn't take long to understand why these musos 'other bands' include an array of festival stalwarts including The Spooky Men's Chorale, The Fred Smith Band, Dahahoo and One Night Jam. In fact, much of The Ellis Collective's recent success and recognition can be attributed to the fact that the musicianship and sensitive arrangements so effectively complement the vulnerability within the lyrics.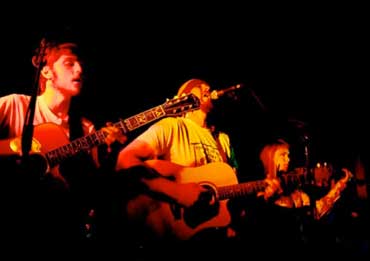 Ellis however is circumspect when asked to describe the recent attention that his collective has been receiving since their first performance late in 2007. "It's a pretty humbling experience as a band that's been together six months to be programmed at huge events like the National Folk Festival, but then to open up a magazine the next week and be singled out as the pick of the festival - it's just crazy, we don't even have an album out yet.". That however is about to change with the band heading into the renowned Infidel Studios later this year to craft a debut LP that "hopefully lives up to the hype..." laughs Matty.
In the meantime while The Ellis Collective continues to play on ever increasingly large stages, they relish the opportunity to play at small intimate clubs. "It's little venues that best suit The Ellis Collective - dinner, a nice ale and the right listening environment - we love it, it's always magic."