Rathmines Got the 'Blues'

10am-5pm, Sun 29th September 2013
By Maree Murdziak
Posted Thursday, August 1, 2013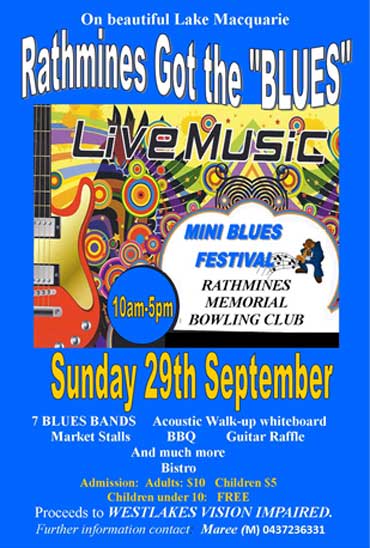 The inaugural Lake Macquarie Blues Festival will present non-stop music at two venues with over 50 musicians!
Seven blues bands, acoustic walk-up whiteboard, market stalls, BBQ, bistro, guitar raffle and much more!
Rathmines Memorial Bowling Club
Stilling Street, Rathmines NSW 2283
Admission: $10 (Children 10+: $5) (Children <10 free)

Proceeds to Westlakes Vision Impaired.
Further information: Maree (0437) 236 331
Performers - Applications for artists have closed but there may be cancellations and there is always the white board walk-up!