You are here:
home > events > interstate
The 2011 National Windjam

21-23 October 2011
By Philip Smethurst
Posted Wednesday, July 20, 2011
A free-reed festival at the
Town Hall
Richmond, Tasmania
for players and lovers of concertina, button accordion, melodeon, mouth organ, jaw harp, musical saw and gum leaf . . .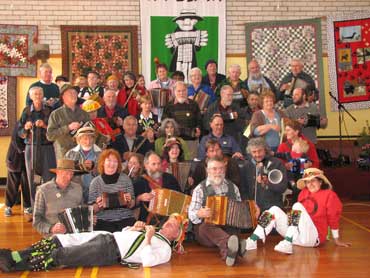 Feature Instruments: Anglo Concertina & Button Accordion
Artists: Gay Charmers, Peter Ellis, Rob Willis, Dave de Hugard, Paddy Fitzgerald, Joan & Ray Munday, Mark & Lisa McDonnell, Jamie Molloy, Peter Hyde, Veranda Coots, Fred PRibac, Mike Manhire, Chris von der Borch and more.
Workshops: Singing-with-concertinas, Paddy Dawson Tribute, Slow Irish Sessions, Guitar Accompaniment, English Tunes, Beginners & Advanced Mouth Organ, Kazoo Orchestra, Repairing/tuning/making an accordion or concertina and more. (Check the website and reserve your place.)
Plus: Old Time Dance, concerts, sessions, National Button Box Championship, National Windjammer Championship.
It's a button box bash . . .
Everyone welcome!
Cost:
Weekend Earlybird (until 10th Oct): $35 ($25 conc) or at festival: $45 ($35).
Day and evening tickets available.
By donation 18 years or younger and 80 years or older!
Bookings/Enquiries: Sarah (03) 6239 1899 or (0409) 218 414.
A Folk Federation of Tasmania Inc. Event