Folk in Broke 2009

Fri 6th - Sun 8th Nov 2009
By Eden Anthony
Posted Wednesday, September 9, 2009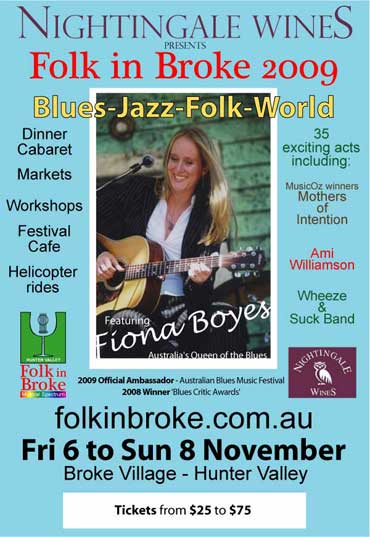 JAZZ•FOLK•WORLD•BLUES
• Opening Night Dinner Cabaret
• All day/night concerts
• 3 on-site venues
• Hands-on activities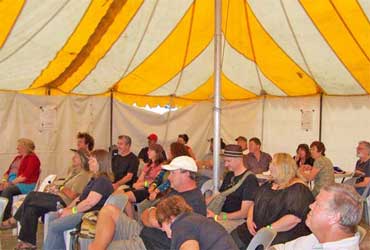 Music, Wine & Food
Folk in Broke has now grown into a true Hunter Valley event. This year sees the event in a vineyard setting. Vineyards have traditionally been the source and location for fun and good music - Here is your chance to experience just that.
Nightingale Wines
The first winery to set up in the in one of the oldest Hunter Valley wine areas – the Broke Fordwich Region, Nightingales offer a superb restaurant, accommodation and tours. Set in view of the stunning Brokenback Ranges Nightingales is the ideal setting for this great event. www.folkinbroke.com.au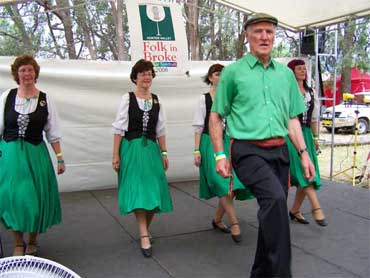 The Event
Running over 3 days - multiple stages - an exciting workshop program – blackboard & themed concerts - open jam sessions - comedy - markets - and a feast of local and interstate artists - Our headliner this year is the great Fiona Boyes who has been declared Australia's Queen of the Blues - She gives out sassy and soulful electric and acoustic blues. She is the first Australian — and first woman — to win the Blues Foundation's International Blues Challenge.
The Festival Cafe will provide all day snacks and meals as well as a program of music & entertainment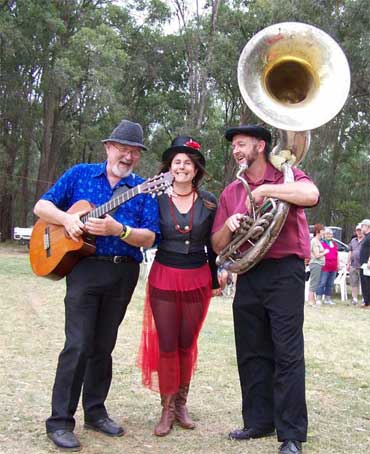 Dinner Cabaret
Our event has always had a Friday night performance - this year it is in the form of a Dinner Cabaret in The Barrel Room. Pre-dinner drinks and nibbles followed by a great mix of music and comedy whilst you enjoy wine and a first class dinner provided by the chefs from Barclay Square Restaurant - all for only $88 - limited places.
Market Stalls will be set up through the vineyard so you can come away with some terrific wares.
Workshop Program & Masterclasses where you can learn to play an instrument if you're a beginner or learn some new tips if you're an experienced player.
Helicopter Rides will give you a wonderful view of one of the most beautiful areas of the Hunter
2009 Line-up:
Fiona Boyes
Mothers Of Intention
Ami Williamson
Wheeze & Suck Band
Sambafrog
After 3 Kent Daniels
Beeswing
Chris Cady
Coolfin Mac
That's That
Sydney Irish Ceilli Dancers
Indiana Phoenix
Paul Regan …..and introducing:
Waltzing Jack
Jehan
Fiona Magee
Ali Skarrat
Tracy Dundon
Nigel Walters
Denise Gold Nerds n Music
Dark Black
Russ Redford
The Roses
Clark Gormley
Alison Harty
The Tea Ladies
Violet Schmidt
Black Crow Walking
Weekend Pass 1: $75
(Fri night NOT incl. dinner + Sat + Sun)
Weekend Pass 2: $138
(Fri night including dinner + Sat + Sun)
Friday night only: $25
(Non-dinner ticket - No children prices)
Friday Cabaret Dinner: $88
(Limited to 48 places - No children prices)
Saturday Day + Night: $45
(Children under 14 free)
Saturday from 6pm: $25
(Children under 14 free)
Sunday: $25
(free after 2pm - Children under 14 free)
Early Bird Discounts
Weekend Pass: $65
(for tickets bought prior to 16th Oct 2009)
Group Bookings: $50 per person
(10 or more, for weekend pass only)
Contact: (02) 6579 1259 or email.
Visit our web site for more info.
The 2009 Folk in Broke music festival has developed more into a blues jazz and roots event.
By having the event at Nightingale Wines - next to their vineyards, cellar door and restaurant, it is finally fulfilling its original aim which is to showcase the extraordinarily good offerings of wine and food to be enjoyed in the Broke Fordwich region.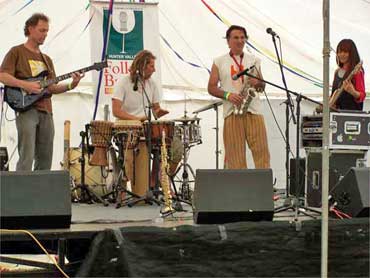 Paul and Gail Nightingale owners of Nightingale Wines have been among the founders of the 'new look' Broke Fordwich Wine region - they offer a first class restaurant, cellar door and winery and superb accommodation in a well manicured garden and vineyard environment. Paul and Gail have been long-time supporters of the local community who appreciate the Nightingale generosity and commitment
For Paul and Gail, the music event is a way to show the region as a mature and exciting place to visit
The managers at Nightingale, Terry & Joan, are enthusiastic about the event and have been planning some great food to offer in Nightingales Barclay Square Restaurant. The restaurant will be transformed for the 3 days into the Festival Cafe where snacks, meals, wine and other beverages can be enjoyed to the sound and sights of a great line-up of performers.
Terry is a passionate muso - whenever he can, he entertains the customers with some great keyboard skills and we, the organisers, know we have hit pay-dirt to have him helping out with the logistics - drawing on his experience as a professional musician
Whilst he is not on the programme as one of the performers, we know that if he can find a moment away from helping to run the event, we will find him joining some of the jam sessions that spring up spontaneously around the festival
The newly designed and spectacular Barrel Room Function Centre will be the venue for the Cabaret Dinner on Friday night - sparkling wine and canapés will be presented as the audience arrives to be followed by a three course meal and Nightingale premium wine to be enjoyed during the show. The cabaret will be a mix of humour, music and variety entertainment.
Music, dance and song writing workshops will be held in The Winery throughout the event and open to all
Stretching around the picturesque vineyards and buildings will be a variety of Market Stalls offering everything from sculpture, hand made drums and musical instruments, exotic silk clothing, to face painting, food stalls and much more.