Folk in Broke 2010

Frid 5th to Sun 7th Nov, 2010
By Sandra Nixon
Posted Thursday, April 8, 2010
Nightingale Wines
1239 Milbrodale Road, Broke
Ph: (02) 6579 1499
50% discount on weekend pass for members of Folk Federation of NSW - quote membership number when booking.

Blues Jazz World Folk Latin Comedy Workshops Markets
Award winning wines, accommodation and food makes this venue the appropriate place to add spectacular music and entertainment

Paul & Gail Nightingale have been involved in working with the community at all levels and have been generous sponsors of many community based activities
The vineyard managers, Terry and Joan have had a long association with music - Terry being an accomplished keyboard player has performed in many concerts, festivals and elite functions.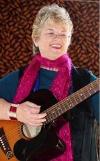 There's lots of opportunities for visitors to participate in this year's festival so come prepared to join in. Whether it's dancing along with Sambafrog or playing along in one of the open jam sessions, there's something for everyone at any level.
Enquiries: (02) 6579 1259

Check out our great Workshop Program & Master classes where you can learn to play an instrument as a beginner or learn some new tips and skills if you're an experienced player.
There are also workshops for singers and songwriters, too
Artists include:
• Ann Ridgway and Rosie Macdonald
• Arch Bishop
• Beeswing
• Black Crow Walking
• Buck and Deanne
• Clark Gormley+Nerds & Music
• Coolfin Mac
• Fig
• Hussy Hicks
• Ian Williams
• Indra Bellydance
• Jug Buster
• Lounge Lizards
• Mark Salter
• Maureen O'Brien
• Michael John Azzopardi
• Nigel Walters & Dave Spira
• Nissa
• Paul Robert Burton
• Russ Redford/Chris Cady
• Sambafrog
• Springtide
• Stevi Cannon
• Sydney Irish Ceilli Dancers
• Takadami
• Tea Ladies
• That's That
• Tom Stone and the Soldiers of Fortune
• UltraVioletta
• Waltzing Jack
• Wheeze & Suck Band
Tickets - buy online from
Stickytickets
Ticket Prices:
Weekend pass: $150
Friday night only: $50
Saturday - day + night: $90
Sunday: $50
N.B. Children under 16 free of charge!
Basic camping around the vineyard (Water, Toilets – no showers)
$25 flat fee - Friday midday to Monday midday
No single day prices
Accommodation is also available at the Winery's Luxury Villas.