Troubadour Events

Central Coast Jan-Feb 2006
By Leila Desborough
Posted Wednesday, January 18, 2006
Australia day Celebration
Woy Woy
January 26th, 2006
Starting at 3pm there will be entertainment on the mainstage across from the wharf at Woy Woy. Many of our members will be performing as well as other local musicians. Lots of booths and tall ships will be there so come and join the fun. Blackboard Concert at the CWA Hall. Come share or listen to performers all evening in the local hall while we celebrate our great country!
Yes OUR . . . Leila is getting her Australian Citizenship on that day too so she will have a lot to sing about! On the following Saturday the 28th she will have a party/session at her house and everyone is welcome to come and share some "classic" Australian music, poetry, stories....etc. Contact Leila for details on (02) 4344 1810.
Troubasession Weekend
Patonga Campgrounds
February 24-26th, 2006 (more details on website)
For those of you interested in attending our weekend relaxing session a confirmation is needed right away. We will have to cancel reserved spaces if these are not spoken for shortly. Contact Marilyn at Peninsula music (details on website) to confirm a booking. It will be a nice way to relax together at Patonga campgrounds so please plan to attend.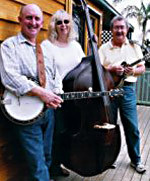 New York Public Library coming up on February 12th. Mark your calendars.
We hope everyone will attend!!
See website for details on all events