The Troubadour presents Miguel and Jim Low

7pm, Saturday 30th October 2010
By Leila Desborough
Posted Monday, July 5, 2010
Miguel (from My Ex Wife Dierdre)
A versatile vocal musician, Miguel's wide-ranging multilingual repertoire is influenced by folk and world music, political satire, Irish Gaelic, environmental causes, trade unionism and the responsible enjoyment of alcohol. His interpretation is thoughtful and expressive and is delivered in a lyric baritone both powerful and subtle .His songwriting is similarly wide-ranging - from the vital concerns of the family cat, through exuberant praise of traditional folk sessions, to a certain sexy excitement that insisted on becoming jazz.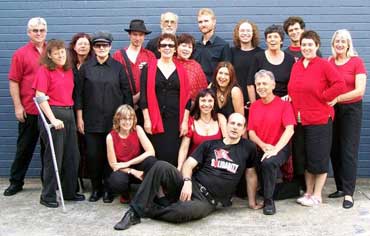 Miguel is the director of Sydney's Solidarity Choir, singing songs of social justice from all over the world. He also directs Ecopella, who perform songs raising awareness of the environment. He has played with the Born Again Pagans, and My Wife Deirdre. He currently appears in Triantan with Judy Pinder and Anthony Woolcott. Miguel has conducted choir workshops and Festival choirs at several major Australian festivals including Maleny/Woodford Festival, Queensland, and the National Folk Festival in Canberra, where he won the 'best vocalist' award in 1996.
Miguel is an experienced, choral director and composer, and a leader of singing sessions. Over many years his contagious enthusiasm for promoting community singing, whether live or recorded, has brought many people together to share the pleasure of singing and to learn new skills and insights.
and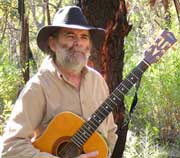 Jim lives in the Blue Mountains of New South Wales, Australia and have done so for thirty years. From childhood he has maintained a deep interest in, and love of, Australian history. He has written books and articles, and developed school learning materials on Australian themes.
His interest in Australia has also been expressed in many of the songs he has written. His song writing has been combined with many and varied performing opportunities.
He has performed at restaurants, concerts and festivals and his music has been played on ABC radio. Each year he continues to enjoy the opportunities of traveling to Australian places and listening to, and documenting, the stories of the people who live there.
His website contains a growing collection of articles, songs, reviews etc that he has written over the years. Please feel free to email him as he values your comments.
Floor spots available and supper provided.
General admission: $10

Concession:
$8
Members:
$7
Children:
Free with paying adult
For more information phone: (02) 4341 4060 (ah) or (0419) 231 319