New York Public Library at the Troubadour

1.30pm, Sunday 12th Feb 2006
By Leila Desborough
Posted Wednesday, February 1, 2006
The Troubadour Folk Club is proud to present: "The New York Public Library" at the CWA Hall, Woy Woy.
The New York Public Library are a Bluegrass, Irish and Country Music band, with lots of comedy thrown in, and feature close three part harmonies - 5 string banjo, mandolin, guitar and double bass.
They play some Irish songs and some country songs, some John Denver songs, some Kingston Trio songs and some Dixie Chicks songs . They even do songs like Back in Nagasaki (where the fellers chew tobaccy) – basically, they do pretty much everything.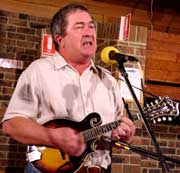 They do original songs as well – ones that have a high comedy content to them. Like The Ballad of Dirt McGraw, the sad story of a big man who was finally defeated by a small septic system. Or the tale of O'Grady, the Bareknuckle Bullfighter, about an undefeated pub fighter in Bourke who, unable to find human opponents, turned to bullfighting with tragic results. Or a (heavily revised) version of the Hawaiian War Chant which somehow involves the use of phrases such as "pheasant pluckers" and "willy whackers". Or The Windsors, a scurrilous anthem of disloyalty to the Royal Family, which was featured on Mike Carlton's radio programme during the last royal visit.
The New York Public Library is:
John Flanagan (mandolin and guitar)
Warren Boyd (banjo, guitar and double bass)
Isabelle Fogarty (double bass and ukulele)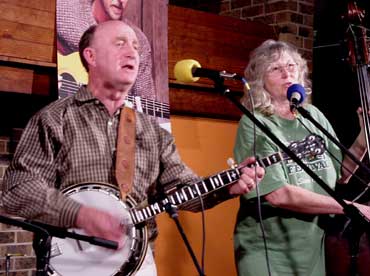 The band is sometimes joined by one of Warren's sons or by John's daughter, but usually it's just the three.
The New York Public Library basically, set out to entertain.
Tickets are $10 ($8 concession) $7 for members at the door, which includes supper.
Floorspots are available, so come along and bring your instrument or voice.
Enquiries welcome: Email or phone Frank
Home: (02) 4341 4060
Business: (02) 4342 9099
Mobile: (0417) 456 929