Mic Conway's National Junk Band at Peninsula Theatre

7.30pm Sat 20th Jan 2007
By Leila Desoborugh
Posted Monday, January 1, 2007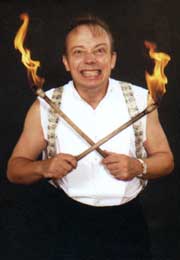 In this day of concerns for our environment and its future we all need to be recycling whatever we can and Mic Conway's Band does it with an extreme flair and a wonderfully wild musical sound. Even the kitchen sink has found a place of honour in this group and many more metallic items will show the magical sounds they can make. Perhaps you will come away from the concert with a whole new opinion of your cluttered garage shelves? Along with their concern for our environment the Junk Band will add their amazing style and humour so be prepared to have a lot of fun and even enjoy some great music. Witness fire eating, illusion, passion, irreverent satire, singing saws, flying chooks and musical mayhem. A modern Vaudeville approach along with music you can really move along with will make the evening an experience that will not be forgotten. Mics well known brother Jim Conway resides in our area as well so there is a lot of talent in the family.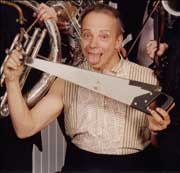 For four years the National Junk Band has had toes tapping and jaws dropping at festivals, pubs, joints, radio, and TV. With two death-defying albums to their credit, and the music to "Badcop Badcop" (ABC TV) in the can, they are about to kick over another with their latest CD "Tin Can Alley". A quantum leap of style and musicianship for the quirkiest band in the land who even performed for the Pope (Pope Alice's "Pacifica" at the MCA).
Visit the bands website.
Don't miss this evening of entertainment . . . there's no telling what will happen!!
This will be the first in a series of concerts the Troubadour Central Coast is presenting with the support of the Gosford City council. We hope to benefit the community by giving them the chance to see quality traditional groups that normally would not be available in the area.
PENINSULA THEATRE
20th JANUARY, 2007 at 7.30PM
Tickets available from Laycock St Booking Office,
Peninsula Music at 38 George St Woy Woy or from Troubadour Central Coast
Inc.
Enquiries: (02) 4341 4060 or (0417) 456 929
General Admission: $25
Concession/Student: $20
Members: $18
Leila Desborough
Publicity Troubadour Central Coast
Email – mail.web@troubadour.org.au