Maureen Obrien Singing Workshop

10-4 Sunday 18th Sept 2005
By Leila Desborough
Posted Thursday, September 1, 2005
The 18th September has been set for a singing workshop on the Central Coast with Maureen Obrien.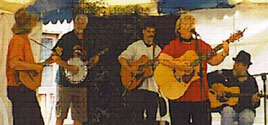 The workshops have previously been conducted in the Upper Hunter, however, since relocation to the Newcastle area, Maureen has been approached on a number of occasions to continue the program for friends who have a love or yen to sing and need some guidance and direction.
The workshop covers topics such as
vocal technique
singing harmonies
singing in parts, and
rounds.
The day is also geared as a joyful singing experience, so there's plenty of fun to be had, including an often hilarious Chorus Cup where the group is split into trio's or quartets and challenge each other to perform a fun vocal piece.
Bring your lunch. Coffee and Tea will be provided

Numbers are strictly limited, so contact Leila by email or phone (02) 4344 1810 for further information and bookings. Only a few seats left so please hurry!!

Some information about Maureen:
The Singer
Whether it's a small intimate dinner function or an outdoor festival event, the easy mellow vocal sounds of Maureen O'Brien will fit the bill. A natural harmonist with a broad alto range, she is equally at home as lead vocalist or providing support vocals.
She selects the material which best suits her vocal style and includes:
Original works
Classic Blues
Jazz
Swing
Gospel
She also likes to include material which allows her personality some free rein . . . hence a frequent penchant for comedy songs.
The Songwriter
Maureen has a rebellious streak and a wicked sense of humour that is reflected in her songwriting. Her simple melodies are a background to the powerful lyrics that may challenge, provoke and stir hearts, minds and memories. Her always-in-demand song Catholic Girls is a true insight into the lady herself.
Her songs are influenced by those life experiences that are shared by many others, such as relationships, ageing, discrimination, conditioning. She is also influenced by social issues which stir her to write out her anger or frustration.
The Performer
Maureen enjoys nothing more than connecting with a responsive audience and so - like a chameleon - this woman will adapt to please her listeners. She may perform solo, in a duo, trio or group as she gathers around her the musicians needed to suit the occasion. But beware, audiences: that wicked sense of fun can rise to the fore at any time ... so be prepared for anything!
Caution: Any requests for a 'wicked women's blues' may unleash more than you bargain for - so make sure you can handle it!
Performance History
Maureen has been performing for over a decade in duo's, trio's, full bands and as a soloist. Groups she has been involved with include:
Glass Slipper
Reverie
The Banshee's
Hot and Bothered
Too Too Blue
Beeswing
She has performed for a wide variety of functions/events and in a diverse selection of venues including:
Mercy Convent Singleton, Music on the Move series.
Residential more than 7 years at Hunter Valley's award winning motel/restaurant Travellers Rest until it was sold.
Hunter Valley Vineyards: regular performer at Mistletoe Winery (regular entertainer for the winery's Tastings on the Terrace and other harvest events), Pokolbin's Olive and Vine Festival (Tuscany Estate, one of the Hunter's more successful wine and food festivals), Broke's Spirit of the Vine Festival (Broke/Fordwich Winegrowers' Black Tie pre-dinner function; daytime festival event), the renowned Robert's Restaurant.
Multiple Music Festivals including St Alban's folk festival (7 years), Wollombi folk festival, Fleadgh Coel (Sydney celtic festival, 2 years, main stage plus dining area).
Folk in Broke Sunday afternoon concerts.
Various clubs (multiple functions at Singleton RSC, Gallipoli Legion Club, Morisset Country Club, Shenanigans Irish Pub and more), restaurants and bars (including Molly Morgans' Restaurant, Laguna Wine Bar, Honeysuckle Restaurants, Kings Theatre Restaurant and more) around the Newcastle and Hunter region.
Entertainment for various community functions such as Art Exhibitions/Openings and Market Days.
Entertainment for various charity functions such as Rotary, Inner Wheel, Business and Professional Women's Club, Community Chest Award plus private parties and celebrations.