Fellowship of the Strings CD launch

Central Coast, 7pm Thurs 6th Oct 2005
By Jackie Luke
Posted Saturday, October 1, 2005
The Fellowship of the Strings are launching their debut CD in style on the Central Coast of New South Wales.
Thursday 6th October 7pm
Kincumber Hotel, Kincumber
Free Admission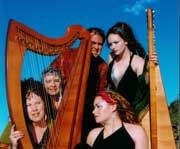 Don't miss the opportunity to see this unique new band featuring the "goddesses of harmony" Ingrid & Tahlia Racz, with Jackie Luke on Hammered Dulcimer, and Greg Wilson and Jan Couchman on Celtic Harps.
Hear Kiss, Abba, Uriah Heep, and many other ghosts from the rock 'n roll past rearranged for 150 strings and stunning vocals.
Door prizes & nibblies.
For more information send us an email or visit our web site.