Ben Scott at the Troubadour

1.30-5pm, Sunday 9th July 2006
By Leila Desborough
Posted Thursday, June 1, 2006
Ben Scott and the Sydney Cove Project
A historical folk music song writing project by Ben Scott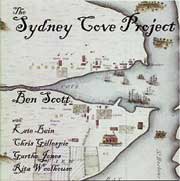 The Sydney Cove Project is a folk music song writing project by Blue Mountains-based musician Ben Scott, exploring human stories from the early history of Sydney in the years following the arrival of the First Fleet. The songs of the Sydney Cove Project retell stories of important characters in Australia's history, both indigenous and European, such as Bennelong, Pemulwy (also known as Pemulwuy), Patyegorang, Ralph Clarke, William Dawes and Watkin Tench. They use journal entries and letters by Watkin Tench, Ralph Clarke, Bennelong and others. They also contain elements of fiction.
Ben Scott performs the songs of the Sydney Cove Project in folk clubs, festivals and venues throughout the Blue Mountains and elsewhere, often assisted by the wonderful talents of Kathryn Bain (vocals, guitar), Garthe Jones (mandolin) and Chris Gillespie (guitar and double bass). Recent gigs include Illawarra Folk Festival and St Albans Folk Festival.

Floor spots available - Afternoon Tea
Entry: $10, $8 and $7

Venue - CWA hall in Woy Woy on The Boulevard which is located on lovely Brisbane waters just as you drive into Woy Woy. It's just opposite Fisherman's Wharf.