This Weekend at the Troubadour!

1pm, Sun June 5th, Woy Woy
By Leila Desborough
Posted Saturday, May 14, 2005
Urban Excentrics
Dont miss this great group at
The Troubadour on June 5th!
Urban eXcentrics
use bowed bass lines, jazzy guitar chords, traditional instruments and contemporary arrangements to highlight their material - both original and borrowed.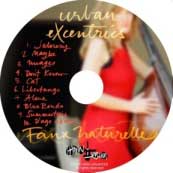 Ann Palumbo studied double bass and guitar at the WA Conservatorium, performing orchestrally while embracing contemporary music. She has a strong background in traditional folk music derived from her Liverpool Irish heritage. She is primary vocalist and also brings mandolin, foot tambourine and arranging skills to the band.
Beautiful sun, Beautiful Fish, Beautiful music!
Guitarist and occasional vocalist Larry Hoofs ((Honky Tonkin' Voodoo Essendon Larry D Shankar) has no trouble changing from delicate acoustic finger picking to driving rhythm guitar to creative guitar or citern solo. Larry developed his skills playing in rock and reggae bands in Melbourne and Perth. His wry vocal delivery and incisive lyrics counterpoint Ann's impassioned melodies. Paul Laszlo joined the band as a double bass player and has since rekindled an old love affair with the banjo. He now freelances orchestrally - mostly as principal bass - with local and touring orchestras, as well as jazz and rock outfits and also as that rarest of beasts, a reading banjologist. His orchestral approach complements the eclectic mix of musical diversity and brings an added dimension to the band
The Troubadour meets at the CWA Hall in Woy Woy across from the Wharf.
We meet once a month (usually the 2nd Sunday of each month at 1pm) where we are entertained by local performers as well as guest artists.
Come along and be entertained or bring your instruments and contribute to a floor spot. Members and general public are welcome.