The Wollemi Warrior Adventure

11am-2pm, Sat 13th July 2013
By Wayne Richmond
Posted Tuesday, May 28, 2013
Children's Interactive Performance
For the kids out there in body and/or heart, come along to a fun new play featuring Denis Kevans' environment songs and on this weekend at the Blue Mountains botanic gardens.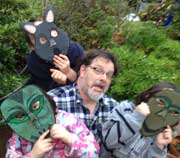 Kids will enjoy this interactive performance as Wendy Wanderer and her helpful adventurers try to stop the villainous Iggy Chop from turning the Wollemi Pine into a toothpick for his collection.
With lots of fun and movement, this performance is suitable for kids 3-12 years. Performances from 11am-12pm or 1pm-2pm. Tickets $20.
Starring Siobhan Clifford, Simon Lenthen and Skye Mostafa.
Bookings essential: (02) 9231 8182
Produced by Entertainment Blue Mountains, written by Simon and Wendy Lenthen, directed by Simon Lenthen.
Come along everyone and enjoy!