Wentworth Falls Regency Weekend & Ball

Sat 31st Oct - Sun 1st Nov 2015
By Caroline Barrell
Posted Monday, July 6, 2015
Come and join the NSW Blue Mountains Heritage dance group for our inaugural Wentworth Falls Regency Weekend & Ball this Halloween weekend 2015, held at the Wentworth Falls School of Arts.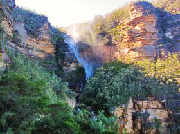 Saturday 31st October 2015 - Visit historic sites in the morning, walk the Darwin track, or attend a talk at the hall on Regency Fashion in the period of Revolution; take lunch in the village, then enjoy a pre-ball dance workshop; dine at local establishments leaving time to dress for the Regency Assembly Ball with Dance Caller, Regency games room & supper. Stay overnight at one of the many charming local accommodations.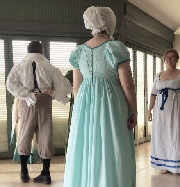 Sunday 1st November 2015 - don your elegant costume for an outing to historic Tarella cottage, including a talk on Australia's first native born returned serviceman, and Tarella's famous scones, then a costumed BYO picnic and promenade at the park at Wentworth Falls Lake.
Be prepared for Blue Mountain's weather in Springtime- balmy, sultry, arctic or wet, you will find beautiful scenery. Bring camera, and coat!
Wentworth Falls was originally established as a depot for road building materials in 1814-1815 whilst the Napoleonic wars raged on the other side of the world, during the heart of the Regency period. Costume from Colonial times to Regency appreciated. Military uniforms always admired.
Further details and Registration form available from Caroline, 0439 314948, or on the website.