Trees Can't Talk

Katoomba - 4pm, Sat 21st Jan 2006
By Margaret Walters
Posted Sunday, January 1, 2006
A fundraising concert by:
Ecopella
+ special guests
(Watch this space)
Proceeds will go to the
Gunns 20
-
Environmentalists being sued by a logging company for speaking in defence of Tasmania's forests.
For more info have a look at their website.

For those of you living in Sydney, another performance of Trees Can't Talk will be taking place in Glebe the previous evening:
8pm Fri 20th January 2006
Glebe Town Hall
[Ground Floor]
St Johns Road, Glebe
$15 or $10 concession

Trees Can't Talk but We Can Sing!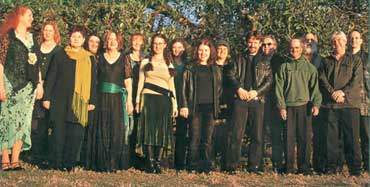 Ecopella are an environmental a capella group based in Sydney, the Blue Mountains and Illawarra. New members are welcome!
Phone: 9810 4601
Email: mheatwole@bigpond.com
Web: http://ecopella.music.net.au