Macquarie Towns Folk Club 30th Anniversary Concert

7pm, Saturday 15 October 2005
By Ellen Manning
Posted Monday, October 3, 2005
Neighbourhood Centre
2 West Market Street
Richmond
Thirty years is a long time for a folk club to maintain continuous operation, and Macquarie Towns will be celebrating in style on Saturday 15 October. If you have ever been a member of the club, or a performer who travelled to the club regularly at any time over the years, we'd love to have you with us to share the celebration.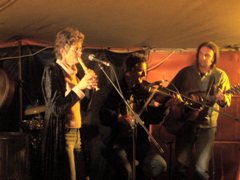 Special guests for the night will be favourite performers Wheelers and Dealers and Mary Jane Field.
We discovered the wonderful band Wheelers and Dealers at Hawkesbury Fiddle Festival a year and a half ago. They are superb musicians with an original and distinctly Australian slant on celtic and country music. On vocals, whistle, flute and recorder, Chris Wheeler - the original used car salesperson; on fiddle, guitar and mandolin, Mike Kerin - if you can hum it, he can play it; and on guitar and mandolin, Ged Corben - their irrepressible straight man. They are in the process of recording a new CD.
'Wheelers and Dealers bring a fresh, lyrical and fun-loving quality to the traditional songs and instrumentals - their enjoyment of the music is infectious.'
'I've never seen the cousins dance the house down like they did when you were playing.'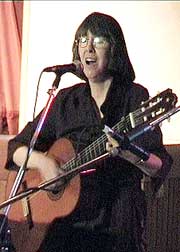 Mary Jane Field has just completed a performance of her acclaimed folk opera, Cantata for Domitila, to a capacity audience at Parramatta Town Hall. The Cantata uses bilingual dialogue, stirring Bolivian folkloric rhythms, dancing, poetry and original music to tell the story of one of Bolivia's modern day working class heroines. Mary Jane's association with Macquarie Towns club goes back many years and, as always, she will be sharing her extensive knowledge and love of South American song and string accompaniment traditions with us on Saturday 15.
For bookings or further information contact Ellen 4578 2975.