Gulgong Folk Festival

Mudgee, 30th Dec 2005 - 1st Jan 2006
By Wayne Richmond
Posted Saturday, December 3, 2005
Gulgong Festival Celebrates 20 Years
A detailed program is available on our web site.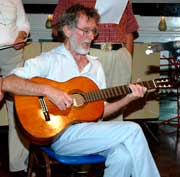 Highlights include:
Pat Drummond & Karen Lynne Duo - New Years Day concert
'Looking back over 20 years' with John Dengate - Songs, verse & stories about the history, politics & life of the people of Gulgong.
WWW Reunion - and you know who you are! Sharing harmonious singing, poetry & folklore of women's experiences.
Fantastic Featured Poets - Some of the finest representatives of the Hunter Bush Poets Club as well as your opportunity in the Poet's Breakfasts.
Denis Kevans Tribute - Sonia Bennett
It will also include the usual full program of dance workshops, sessions, concerts and a Music Hall on the Saturday afternoon from 2-4 in the Prince of Wales Opera House.
Music Hall items confirmed so far include:
Dale Dengate & the W's – Skits: 'It's the same the whole world over' & 'Nightie Nightie'
John Dengate – Narrator
Nick Lock – 3 songs
Alex & Julie Bishop – Songs: 'Long, long trail' & 'Loves old sweet song'
Mary-Jane Field – Song: 'Don't have any more Mrs Moore'
Virago from Dubbo (Di Clifford) – Songs: 'I'll take you home again Kathleen' (parody) and
'Beautiful Isle of Somewhere'
Frank & Marilyn Russell – Yodelling 2 songs
Shirley Church – tap dance
Betty Hardcastle – Magna Charter
John Warner
Margaret Winnett – Irish Dance Skit
Jan & Vic Orloff
Bill Bekric
Melodrama
Bob Foggin
Bruce Cameron
George Bolliger
Arch Bishop?
Wellington Boots skit
Sing-a-long to finish
For more information send an
email
or visit our
web site
.