Frencham Smith & Chris Gillespie @ Clarendon

8.30pm, Friday 25th May 2007
By Chris Gillespie
Posted Friday, April 13, 2007
On Friday May 25th at 8.30pm the Clarendon in Katoomba will play host to Frencham Smith, who are launching their new CD 'Love Thongs', plus Chris Gillespie & The Wandering Hands.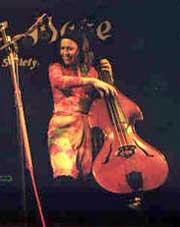 The Frencham Smith collaboration first began at the National Folk Festival in April 2002. At the time Liz Frencham was growing in her role as bass player with the Sydney Celtic trio Jigzag, and was looking to spread her wings as a vocalist. Fred Smith had written an album's worth of ballads for women's vocals and was looking for the right gal. He found her.
Since then they recorded the acclaimed album Into My Room and have become a major force on the Australian Folk circuit, both as a duo and individually: In 2005 Liz released here first solo album "Jericho". In that year the documentary film Bougainville Sky was released about Fred's work in the Pacific and he moved to the United States where he has become a respected songwriter on the competitive US Scene. Fred has come back to Australia to tour with Liz behind their second album Lovethongs to be released in April 2007.

Lovethongs was recorded over two years in studios in Australia, the US and Canada. It features contributions from North American musicians as well as from Australian luminaries including David Bridie, Ruth Hazelton, and Jon Jones, drummer from the Eric Bogle band.
"Not Just bonza, double bonza, 10 out of 10 with a koala stamp….go and see Frencham Smith or I'll slash your tyres." (Philip Adams, Late Night Live, Radio National)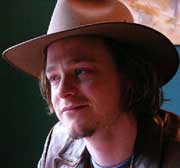 Chris Gillespie & The Wandering Hands will be opening the nights performance. The Sydney based trio recently launched their new EP 'Free To Roam' at the 2007 St. Albans Folk Ferstival. This new recording features the three part vocal title track, as well as others like much loved audience favourite 'M2 Cockatoo', the directed complaint of the cockatoos who live above the M2. Chris and The Wandering hands will be performing other songs like 'Ed' (the cricket playing dog) and '2 front Doors' ('Best Song' - 2006 Lawsong songwriting competition).