Denis Kevans & Sonia Bennett

Blackheath - Thurs 2nd June 05
By Wayne Richmond
Posted Monday, May 9, 2005
Denis Kevans and Sonia Bennett will be performing with ten members of Loosely Woven at Blackheath Folk Club in June.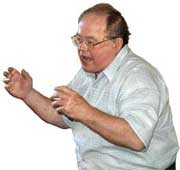 Denis Kevans is Australia's Poet Lorikeet. He has written well over 1,000 poems, songs and satires and has won more than 50 prizes for poems and songs. His titles, if not his name, are a bye-word among the Australian people. Titles like 'The Slouch of Vietnam', 'The Great Prawn War', 'Shoulda Been A Champion', 'The Roar of the Crowd', 'City of Green' & 'The Woodchip Man'.
Frank Hardy says of him:
Denis Kevans is the alternative poet par excellence. He is neither published in fashionable editions, nor set in schools, yet he reaches a wider audience than most poets; his thoughtful open face is more widely known than the face of most other poets for he has recited face-to-face with over a hundred thousand people (apart from frequent recitals on alternative radio); his name does not warrant even a mention in the poetry section of The Oxford History of Australian Literature but he writes better than many poets whose names do; although his themes are usually the serious concerns of humanity, his comic and satirical poems are often uproariously funny (someone said: "Denis is the funniest poet since Dennis."); while he is often unashamedly propagandist, he always retains a high level of poetic quality and imagery.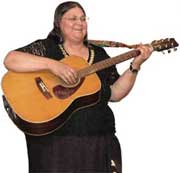 Sonia Bennett is a singer, songwriter, artist and bush regenerator. She points out that it is easier and less costly to look after healthy, protected bushland that to fix it after it has been damaged or destroyed. She has a glorious voice, rich and powerful, with a wonderful falsetto that gives her an enormous range. She is also a fine songwriter composing tunes to other people's words as well as her own.
Her songs include:
'Learn all their songs sweet lyrebird' (with Denis Kevans)
'The Wollemi Pine' (with Denis Kevans)
'The Sydney Song' (with Denis Kevans)
'And the children cheered the thunder' (with Denis Kevans)
'The Beauty of the World' (with Denis Kevans)
'The Valley of the Waters' (with Denis Kevans)
'Lungs of Green' (with Denis Kevans)
'Sydney Rose'
'When its gone, its gone forever'
'The Spirit of Oolooloo'
'Nepean-Hawksbury'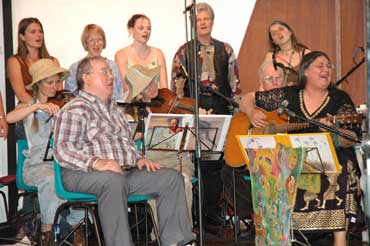 Denis and Sonia will be performing with ten members of Loosely Woven who will be singing & playing fiddles, cello, recorder, accordion, concertina, keyboard, mandolin and percussion.
Blackheath Folk Club takes place at the New Ivanhoe Hotel from 7.30pm
For more information about the club call Chris Davies on (02) 4787 7246.