Concert for Blackheath Highway Action Group

7.30pm, Sat 26th June 2010
By Chris Wheeler
Posted Monday, March 29, 2010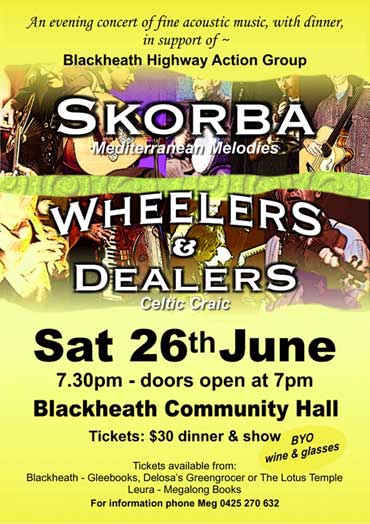 Skorba - Founding director Andy Busuttil draws on his Maltese heritage in his collaboration with John Robinson and Bertie McMahon to bring you the musical mosaic that is Skorba. The full quintet includes Llew Kiek (Greek bouzouki) from Mara! and Paul Jarman (saxillo, tenor sax, whistles) from Sirocco joining members Andy Busuttil (vocals, clarinet, zurna, percussion), Bertie McMahon (guitar, bass, Irish bouzouki) and John Robinson (oud, tambura). All pieces composed by members of the band and inspired by music from around the Mediterranean basin including Portugal, Spain, France and Italy, as well as some Celtic influences. The concert features some glorious images of the Maltese Archipelago on the big screen and lots of improvisational work with every band member being a skilled improviser.
Wheelers and Dealers - Multi-award winning band bringing to Australian audiences a contemporary approach to Celtic and other English language traditional music. With a unique and powerful sound forged from diverse musical backgrounds, the band's repertoire is a mix of classic songs and dynamic instrumentals. Feel the pain of a drover's wife during a drought, through the words of Henry Lawson set to music. Travel alongside a rogue Irishman with a Robin Hood complex. Sit outside a rough hut in the Appalachian Mountains listening to the fiddle dance. The full quintet is Mike Kerin (fiddle, guitar), Ged Corben (guitar), Michael Vidale (bass), Tinker Duffy (accordion, vocals) and Christine Wheeler (vocals, flute, whistle).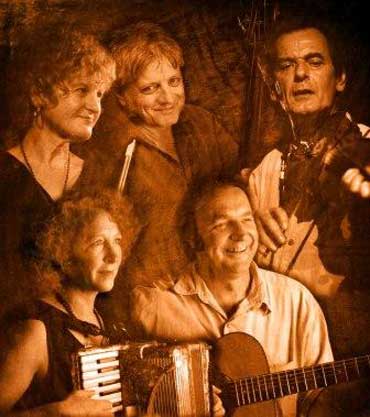 Blackheath Highway Action Group (BAG) - BAG was formed in 2008 to mitigate the damage being caused by the ongoing upgrade of the Great Western Highway into a major truck transport route from Sydney to the Central West of NSW. During the evening's musical interlude, there will be a 5 minute update on what's currently news re the highway.