Anne Ridgway 'Paint A Thought' CD Launch

3-5.30pm, Sunday 30th May 2010
By Julie Nance
Posted Thursday, April 8, 2010
Unique collaboration produces stunning third album
The soulful music of Blue Mountains singer-songwriter Anne Ridgway is set to captivate fans this month with the concert launch of her third CD "Paint a Thought".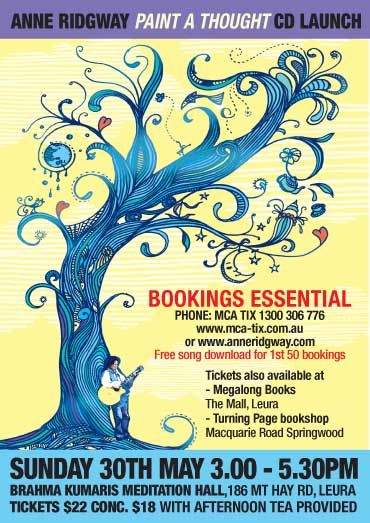 Ridgway has collaborated on her new album with guitarist Bruce Reid from Australasian rock band Dragon, who is also a member of the seven-piece jazz ensemble The Catholics.
"The CD has an element of jazz this time because I'm using different instruments including Bruce on lap steel, national steel and Dobro guitars," says Ridgway, whose latest work is the culmination of two years of writing.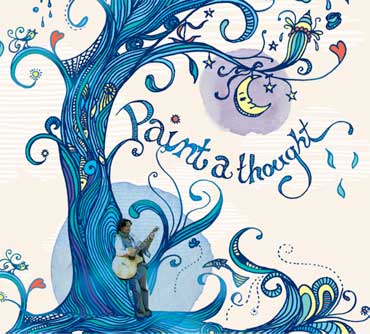 Also featured on the album is the strong, punchy double bass of Ann Palumbo, a multi-instrumentalist, songwriter and composer from the popular world music bands; UrbaneXcentrics and Tangocentric.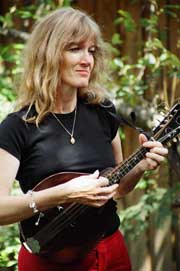 Reid and Palumbo will be joining Ridgway for a concert/CD launch at the tranquil bush setting of the Brahma Kumaris Centre in Leura on May 30. The lead singer and guitarist from The Mothers of Intention - Rosie McDonald - who will feature on backing vocals and renowned violinist Tony Pyrzakowski, will join the musicians. Talented local guitarist/songwriter, Edward Boyd will also feature as a support act on the day.
"Paint a Thought" follows the release of Ridgway's successful CD's "Angophora" in 2002 and "Turn Your World Around" in 2005.
CD Launch
3pm, Sunday 30th May
Meditation Hall
Brahma Kumaris Centre
186 Mount Hay Rd, Leura.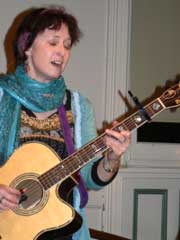 Bookings essential - Phone MCA-TIX (1300 306 776) or book online or visit Anne's website. If you are one of the first 50 to book here you will receive a free download and the chance to win a 1.5 hour massage, CD and T-shirt.
Tickets are also available through Megalong Books, Leura; or The Turning Page, Springwood.

The concert includes afternoon tea and costs $22 for adults and $18 for concession. CD's will be on sale at the event at the special price of $20.
For more information and to arrange an interview with Anne Ridgway, please contact: Julie Nance, Nance Communications: Phone: (0428) 511 040