Sonia Bennett & Loosely Woven

Blackheath - Thurs 7th September 2006
By Wayne Richmond
Posted Wednesday, August 9, 2006
Sonia Bennett & Loosely Woven will be performing at Blackheath Folk Club in September.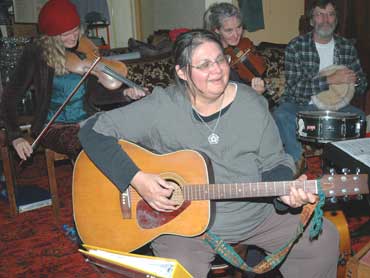 The last time this happened was with Australia's Poet Lorikeet Denis Kevans in June last year, a couple of months before Denis died. Photos of this event can be found in the Photo Gallery on the Denis Kevans web site.
Sonia Bennett is a singer, songwriter, artist and bush regenerator. She points out that it is easier and less costly to look after healthy, protected bushland that to fix it after it has been damaged or destroyed. She has a glorious voice, rich and powerful, with a wonderful falsetto that gives her an enormous range. She is also a fine songwriter composing tunes to other people's words as well as her own.
Her songs include:
'Learn all their songs sweet lyrebird' (with Denis Kevans)
'The Wollemi Pine' (with Denis Kevans)
'The Sydney Song' (with Denis Kevans)
'And the children cheered the thunder' (with Denis Kevans)
'The Beauty of the World' (with Denis Kevans)
'The Valley of the Waters' (with Denis Kevans)
'Lungs of Green' (with Denis Kevans)
'Sydney Rose'
'When its gone, its gone forever'
'The Spirit of Oolooloo'
'Nepean-Hawksbury'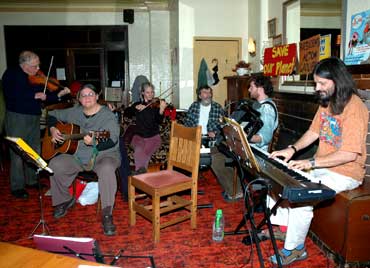 Loosely Woven are a variable group of singers and instrumentalists who play fiddles, harp, recorder, accordion, concertina, keyboard, mandolin and percussion. In 2004 they put together a concert called 'Fogs is the problem!' in conjunction with, and featuring the songs of, Denis Kevans and Sonia Bennett. CDs and DVDs of that concert are available from Wayne Richmond.
Blackheath Folk Club takes place at the New Ivanhoe Hotel from 7.30pm
For more information about the club call Chris Davies on (02) 4787 7246.