Enda Kenny & Dog Walking Backwards at Almost Acoustic

Eastside Arts, 8th October 2005, 8pm
By Margaret Walters
Posted Saturday, October 1, 2005
October at Almost Acoustic features Melbourne singer-songwriter, Enda Kenny and Sydney based a-capella quartet Dog Walking Backwards.
a voice that imbues every word with passion
Irish born, Enda Kenny writes songs that get right to the heart of the Australian experience. He has a voice that imbues every word with passion and injects just the right level of rebellion and sentiment. His new album "Here and There" - keeps the flames of protest and moral outrage alive.
Acclaimed as one of Australia's finest songwriters, Enda has produced five albums since the release of "Twelve Songs" in 1994. All feature the masterful fiddle playing of long time collaborator Lindsay Martin - and he hopes to be joining Enda at Almost Acoustic (subject to the needs of a new baby!)
Enda's new CD continues his practice of telling stories in his songs, and drawing on the songs by other writers. Two early influences, Stan Rogers and Chris De Burgh are represented on this album, as well as writers encountered more recently, such as Alex Legg from Melbourne and Rod MacDonald (USA).
An enthusiastic supporter described Dog Walking Backwards as a "hot new a-cappella quartet featuring funky new arrangements, some cool moves and an ear for jazz harmonies".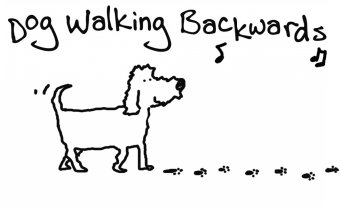 Kerry Thompson, Anna Schneider, David Small and Chris Kearns have been performing as Dog Walking Backwards since 2004, and have appeared at mainly a-cappella gigs around Sydney.
They like to sing a mix of styles including some familiar songs with original arrangements, some less familiar songs, and some original pieces.
Doors open 8pm. Music from 8.30pm. The venue is licensed and substantial finger food and snacks are available. No BYO please.
Bookings recommended – 9331 2646 or bookings@eastsidearts.org.au – $15/$12
Eastside Arts is at 395 Oxford Street, Paddington - the site of the Paddington Markets
Free car parking – Gordon Street Church car park. Good public transport.
Almost Acoustic is supported by the Folk Federation of NSW, Eastside Arts, and the NSW Ministry for the Arts.