Nancy Kerr and James Fagan + Lyrebird at Almost Acoustic

Eastside Arts, 18 February 2006, 8pm
By Margaret Walters
Posted Wednesday, February 1, 2006
This Anglo/Australian duo has been described as "quite simply the most refreshing, impressive and compelling combo" around. They have returned to Australia for a few months, performing at Woodford and Cygnet Folk Festivals and touring New Zealand in January/February. At Almost Acoustic on Saturday 18th February, we'll have the pleasure of hosting their first Sydney concert for the year. And in 2006 Nancy and James celebrate their tenth anniversary together.
they have a magic quality on stage
Winners of the BBC Radio 2 Folk Award for Best Duo 2003, and the BBC Horizon Award in 2000, the couple goes from strength to strength. In live performance "the telepathic and sympathetic interplay of Kerr and Fagan never fails to amaze" and they have a magic quality on stage – evident at the recent Woodford Folk Festival where they received a standing ovation at one event.
A review of a 2005 gig in London, by Pet Fyfe sums up their remarkable talents:
"Nancy's fluid style of fiddle playing sounds as if she was born with the instrument in her hands, delicate at times and then thoroughly dramatic the next; and let's make no mistake – the intensity with which she plays shows a passion that any musician would die for. James likewise is in total command of his Sobell bouzouki-guitar, providing driving rhythm or well placed clean picked notes that accentuate the intricacies of the melodies. As if that wasn't enough, both are fine vocalists and their choice of songs, combining a balanced mix of traditional and contemporary, is a lesson to every aspiring performer in how to construct a set-list."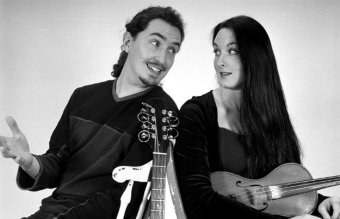 Nancy and James have just released Strands of Gold, their fourth CD. The package is minimalist and classy – matching the contents of the CD itself where Nancy and James are joined skilfully and discreetly by some excellent musicians. The level of vocal and instrumental excellence is quite astounding and their arrangements range from delicate to exuberant, captivating and involving the listener in the celebration of their music.
Lyrebird is the name for duo, Kate Henshaw (vocals, blues harp, glockenspiel, keyboard, accordion and recorders.) and Pete Doherty (guitars, blues harps and vocals). They share the singing, and describe their music as a mix of trad Celtic, pop and country with blues and jazz overtones. Beautiful harmonies, catchy tunes and quality lyrics accompany their songs.
... beautiful harmonies, catchy tunes and quality lyrics ...
While the two are relatively new to the Sydney folk scene; you only have to hear them play a bar or two before it is apparent that these are highly competent musicians, their presentation signifying decades of experience in a variety of genres.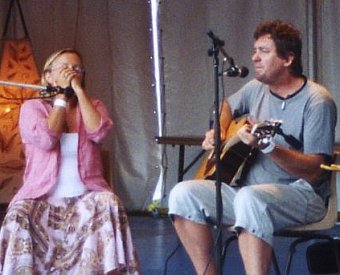 Pete has had twenty years of live performance in rock, blues and roots bands and he's a noted session guitarist. His lyrical acoustic riffs work beautifully in the duo. Pete is the owner of Goose Recording Studios in Leichhardt, Sydney, where he produces albums for independent bands.
Kate is lead vocalist with Zephyr - a classical crossover group signed to Origin Records. With a pure and powerful soprano voice, Kate has sung in concert halls and inner city pubs and successfully crosses the classical and roots genres. On blues harp, she can belt out riffs Sonny Terry would be proud of. A piano player noted for real and rootsy emotion, Kate is often called upon to lend edge to roots recordings in hometown Sydney.
They'll play gigs almost anywhere. With or without the pets! Call Pete on 0414 35 35 34
Doors open 8pm. Music from 8.30pm. The venue is licensed and substantial finger food and snacks are available. No BYO please.
Bookings recommended – 9331 2646 or bookings@eastsidearts.org.au – $20/$15
Eastside Arts is at 395 Oxford Street, Paddington - the site of the Paddington Markets
Free car parking – Gordon Street Church car park. Good public transport.
Almost Acoustic is supported by the Folk Federation of NSW, Eastside Arts, and the NSW Ministry for the Arts.