A Very Spooky Event!

8pm Sat 5th Nov, 2005 - Marrickville
By Christina Mimmocchi
Posted Tuesday, October 25, 2005
The Spooky Men head down from the hills . . .
The Spooky Men's Chorale hits Sydney with special guests Greg Arnold (Things of Stone & Wood) and Nadya and her 101 Candles Orkestra (bring your dancing shoes) PLUS mystery MC, special prizes & a trove of treasures.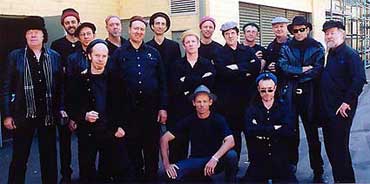 Saturday 5th November
Marrickville Town Hall
303 Marrickville Road
Marrickville
Doors open: 7.45pm
Tickets: $20 ($15 conc) - early booking recommended (you have been warned!)
Cash/cheque: (02) 9314 6826 or email
Internet/credit card: www.stairwaytokevin.com.au and search for 'spooky' (then try harder).
Alcohol and soft drinks available. Delicious middle eastern food by Sid's Kitchen, Katoomba.
Dress with panache and mystery.
Spread the word!