Monaro Folk Society's 26th Annual Colonial Ball

23rd September 2006
By Jenny Wardrobe
Posted Saturday, July 15, 2006
University House
Music by Stringfiddle

The first couple of Colonial Balls were held at the Australian National University. This year the Colonial Ball will be held in the Hall, University House, and we hope to encourage dancers to attend the ball, see the beautiful Floriade and participate in the Woolfest at the historic Lanyon Estate. To celebrate spring in Canberra it would be wonderful to see the guests include some floral decoration on their gowns or in their lapel buttonhole.
In 1980, Judy Baker conceived the idea of a Colonial Ball as a "posh do" creating an occasion for dancers to dress up and the inaugural ball was held in March. The essence of "poshness" has remained with dancers dressing in period attire and the formality of booking dances on a dance card, as guests mingle, before the ball.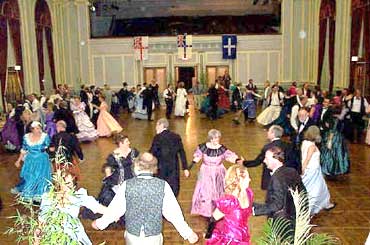 Judy will, once again, be calling the dances, as she did for the first ten Colonial Balls. This year she will team up with the band Stringfiddle featuring Bob McInnes.
Tickets may be purchased at MFS Events or by mail to:
The Treasurer,
Monaro Folk Society Inc.
PO Box 482
Civic Square ACT 2608

MFS Members:
$45.00
Non-members:
$50.00
Young Dancer 14-18 years
: $25.00 (must not be a novice on the dance floor and be accompanied by an adult attending the Ball on a paid ticket)
Ticket sales will cease on 15th September or earlier if sold out. (Places are limited)
Booking form www.monarofolk.org.au
Dance Instruction/ Refresher practices will be held at the Merry Muse Settlers Nights at the Polish-Australian White Eagle Club, 34 David St, O'Connor at 8pm on Friday 4th August and 1st of September. Some of the simpler dances will be included in the Bush Dance Classes at the Wesley Centre commencing 14th August
Program for the Ball is on the web at www.monarofolk.org.au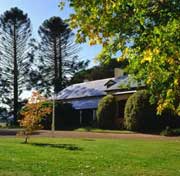 Recovery Picnic
Picnic to be held at the Lanyon Estate's Woolfest with free entry if you are attired in suitable colonial dress. (Moleskins and Colonial Daywear may be preferable to Ballgowns.etc). Commencing at midday Sunday 24th September. Bring a picnic lunch and enjoy the fun.